Moscow City Goverment visits prestigious C.F. Møller projects in the making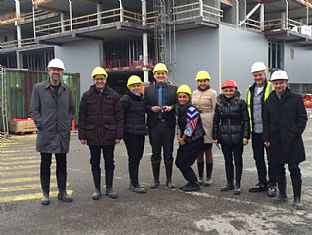 15.11.2015 | A delegation from Moscow City Government visited C.F. Møller last week. Their aim was to learn more about Danish city planning, architecture, international cooperation, education and kindergartens.
Partner Mads Mandrup took them on a tour of Copenhagen International School in Nordhavnen where they had a presentation on the Danish school system accompanied by thoughts on how to accommodate the Danish educational system in an innovative and sustainable way.

Next stop was Panum Institute, where they got a tour of the new science tower, the Mærsk Building. The main focus was on research and the utilization of tall buildings for educational and research purposes.
More about the Copenhagen International School
More about the Mærsk Building