New framework agreement at Aarhus University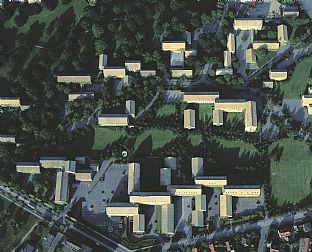 24.11.2015 | Aarhus University has chosen C.F. Møller to undertake all architectural advisory services under a framework agreement for the next four years.
Aarhus University's almost 700,000 m² of buildings require regular maintenance. Up to and including 2019, C.F. Møller will be undertaking the architectural aspects of this work. This is confirmed after the University selected C.F. Møller to advise on its conversion, renovation and maintenance tasks, as well as urgent and ad-hoc tasks.

"This framework agreement enables us to cultivate and continue to build on the very foundations of C.F. Møller," says partner Tom Danielsen.

"C.F. Møller drew the first outlines for what is known today as one of the finest universities in northern Europe. We are therefore naturally delighted to be able to continue this work today, more than 80 years after the University was established," he says.

The University of Aarhus, which dates from 1931, is a unique and coherent university campus with consistent architecture, homogenous use of yellow brickwork and adaptation to the landscape.

The University of Aarhus, with its extensive park in central Aarhus, includes teaching rooms, offices, libraries, workshops and student accommodation. The university has a distinct homogeneous building style and utilization of the natural contours of the landscape. The campus has emerged around a distinct moraine gorge and the buildings for the departments and faculties are placed on the slopes, from the main buildings alongside the ring road to the center of the city at Nørreport. All throughout the campus, the buildings are variations of the same clear-cut prismatic volume with pitched roofs, oriented orthogonally to form individual architectural clusters sharing the same vocabulary. The way the buildings emerge from the landscape makes them seem to grow from it, rather than being superimposed on the site.

The University has won renown and praise as an integrated complex which unites the best aspects of functionalism with solid Danish traditions in form and materials.

C.F. Møller has directed the design of the university buildings from the beginning to the present day.