NOMINATED FOR TOWN PLANNING AWARD 2015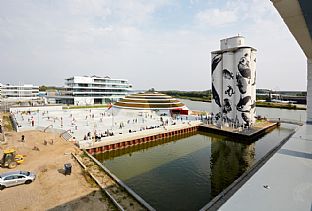 21.9.2015 | Haderslev Municipality is nominated for the Town Planning Award 2015 for the transformation of the Port of Haderslev, which has taken shape over the last decade. C.F. Møller compiled the master plan for transformation of the port, which has served as a management tool since 2004 and ensures that the vision will be realised even in a time of crisis.
The Port of Haderslev was nominated a redevelopment area around the year 2000. Via public meetings and the establishment of an all-party committee, a clear vision for the area was created and in 2003 an architectural contest was announced. This was won by C.F. Møller and the master plan was completed in 2004. The vision to create "a striking, independent urban district that is accessible to as many people as possible" has been pursued consistently and brought to fruition, despite the fact that Denmark was in the claws of a financial crisis for much of the development period.

Effective toolbox
The original concept was to base the new development on pre-existing qualities and accessible building plots and thus to plan a step-by-step transformation of the industrial port, which would be easy to realise at relatively low cost. Complexes that require larger investments, e.g. a canal system, which, in tandem with promenades and public areas, will create new interfaces between town and fjord in Haderslev, is included as an option in each phase, to ensure that construction costs and income can be continually adjusted.

The application of pragmatic planning tools of this kind has proven to withstand the test of time, and made it possible to grasp opportunities as they arose, including the location of private and assisted housing, workplaces and educational and cultural edifices of high architectonic quality, e.g. the VUC Lighthouse (vocational training centre) and StreetDome, one of Northern Europe's biggest skateboard centres. The historical silos are preserved on the new waterfront, as indeed the master plan proposed.

A provincial town with muscle
The nomination committee writes:
"Haderslev Municipality is nominated for its unified plan and the local authority's successfully having stuck to their guns and their vision in a financial crisis. Their example demonstrates how important it is that administrations work together. The result is a very attractive waterside environment suitable for varied uses, which has space for everyone – and, not least, for young people. At a time when many provincial towns are faced with moribund town centres and a steadily ageing population, Haderslev is an example that is worth a closer look."

The Urban Planning Award
The award is presented every year to an innovative town planning project. The award was founded by the Danish Town Planning Institute and the Danish Architects' Association. The winner will be announced at the annual Town Planning meeting on Thursday, 1 October in Nykøbing Falster.
Read more about the Urban Planning Award here
See more about the masterplan here