Student housing in Odense topping out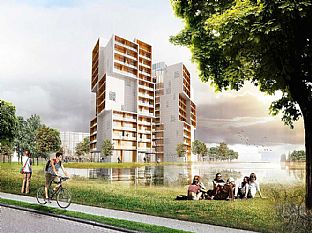 25.2.2015 | After rising one storey every two weeks, the new student housing at the University of Southern Denmark has reached its full height as one of Odense's tallest buildings, and is topping out Friday the 27th of February.
The design of the new student housing for the University of Southern Denmark in Odense is based on a strong community spirit, as a place for Danish and international students to meet and build ties across cultures and nationalities. The building's distinctive shape makes it easily recognizable on the campus, as a landmark for the university and the city alike.

Communal heart
The idea of attractive communities is fundamental to the design, manifest in the way the 250 student residences are located in three interconnected 14-storey towers, clustered around a common core. This means that the residence has no front or back, but appears attractive from a 360-degree perspective, explains partner and architect Julian Weyer from C.F. Møller.

This also allows the dorm rooms to be clustered in smaller communities of seven rooms in each tower, with all 21 rooms of a floor sharing the communal kitchen and living room in the centre. The need for creating a balance between the common and the desire for privacy has also been considered:

"The dorm rooms are located on the outer faces of the three towers, where they all enjoy views of the countryside. Moving inwards from the private rooms, the areas change gradually – first a semi-private area, which acts as a social meeting and study zone for each cluster of seven rooms, and in the centre of each floor are the kitchens, where all can participate in the community", says Julian Weyer.

Green and energy efficient
The common areas are not only present on the residential floors. Also the ground floor and the top floor feature group rooms, study areas and party spaces, and finally there are roof terraces on several levels. Despite its unique height, the student housing will blend organically into the surrounding protected forest landscape, with its own park and small lake.

Each room has a private balcony, which also has an environmental function: The shading internal balconies help manage solar gain, contributing to significant energy savings, and the high-quality construction will fulfil the strictest Danish low-energy standards (class 2020).

The student housing is built with the support of the A.P. Møller Foundation. C.F. Møller Architects acts as lead consultant, in cooperation with C.F. Møller Landscape and engineers Niras, and the dorm is expected to be ready to receive the first students in September 2015.