Winner of Capital of Region of Denmark framework agreement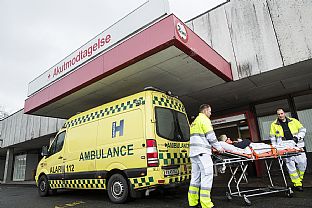 10.1.2016 | C.F. Møller has a share in a three-year client advisory framework agreement for Capital Region of Denmark.
C.F. Møller is one of five consultancy companies selected to advise the Capital Region of Denmark on hospitals and psychiatric units under the auspices of a framework agreement.

In the coming years, the regional authority will invest huge sums in expanding the regional health service. Hospitals – somatic and psychiatric units among them – will be built and refurbished for an unprecedented sum running to many billions of Danish Kroner.

A number of new projects are either in progress or will soon begin in Capital Region of Denmark. Meanwhile, the regional authority faces significant challenges with regard to the existing building mass. To avoid a situation in which the public sees enormous differences between physical health facilities, a solution has to be found. C.F. Møller is part of the solution to these challenges.

"We see the framework agreement as the key to our influencing the development of Danish hospitals and psychiatric units even more in the future. We have many years' experience of refurbishing and optimising existing health sector buildings. In the next few years, our experience will ensure that The Capital Region of Denmark receives sharp professional advice in the initial phases," explains Klavs Hyttel, partner at C.F. Møller.

The Capital Region of Denmark has 1.9 million m² of floor area and an appreciable number of leased premises at its disposal. In addition to C.F. Møller, the group chosen to take care of client advisory services under the framework agreement comprises ALECTIA, COWI, Kuben Management and MUNKSGAARD plus ANDERSEN Bygherrerådgivning A/S.

C.F. Møller is currently responsible for client advisory services in connection with several important health sector projects, including the New Odense University Hospital and the Juliane Marie Centre at Rigshospitalet (Copenhagen). Meanwhile, C.F. Møller is the leading architect at the New University Hospital in Skejby (Aarhus), The University Hospital in Køge, Hvidovre Hospital and Vendsyssel Hospital (Hjørring). In 2015, C.F. Møller's Akershus University Hospital project in Norway was honoured as the world's best health project over 40,000 m².