Port of Aarhus, Marine Building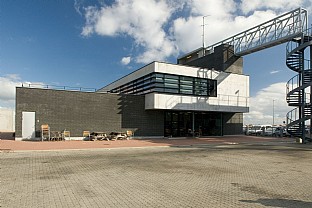 Client
Aarhus Havn
Address
Aarhus, Denmark
Size
710 m²
Year
2000-2001
The Marine Building lies at the outermost northern tip of Aarhus Harbour, offering a view of Aarhus Bay, the city, and the container terminal that the building serves.
The building contains offices and various service facilities used by a number of the port's staff groups. The different working hours and needs of the staff are accommodated via an interior design with several units that can function independently of each other. At the same time, the common facilities also provide opportunities for social interaction.
The building's form, with its protrusions and passages, provides shelter from the harsh weather conditions on the outer quays, and provides shading of the large glass panels. The materials used are cast in-situ concrete and dark brick: as raw as the harbour itself, and at the same time a response to the challenges of the location.
Team
Construction
Skanska
Engineering
Ingeniørfirmaet Allan Almbjerg Ingeniørfirmaet Henry Berthelsen
Architect
C.F. Møller Architects
Awards
Aarhus Municipality Architecture Award. 2011