Aarhus University Hospital - AUH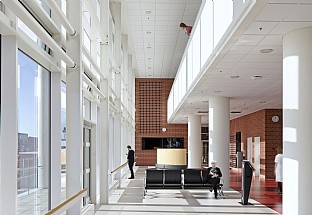 Client
Region Mid-Jutland
Address
Aarhus, Denmark
Size
216000 m² newbuild, 159,000 m² conversion =375,000 m², plottage: approx. 970,000 m². 797 beds, 43 dialysis seats, 80 hotel beds.
Year
2007-
Competition
1st prize in international architectural competition. 2007
The biggest hospital project in the history of Denmark, the New University Hospital in Aarhus, is being added to the existing Aarhus University Hospital in Skejby to create one overall hospital complex.
The hospital will be as big as a Danish provincial town, with the same layout as an archetypical town, with an elevated, densely built-up centre. It will also be Aarhus' largest workplace. The major hospital complex is structured as a town, with a hierarchy of quarters, streets, plazas and squares as the basis for a diverse and dynamic green urban centre, and with intuitive way-finding for its users. Systematic use of "Knowledge and Evidence-Based Design" has allowed the concept of "healing architecture" to influence the physical design of the hospital. From the design of single-bed wards, to the use of daylight and light inflows, and the design of the landscape and garden spaces. The hospital is designed to flexibly meet future requirements of technology, treatment methods and working methods.
The overall complex is divided into professional communities with their own identities. This ensures a clear structure, which has three elements: a two-storey base with treatment functions; wards above the base up to a height of four storeys; and in the middle the coming "Forum" central arrival area, where public functions are located at the foot of three multi-storey blocks.
The Emergency Centre was officially opened in February 2017 and comprises over 150,000 m² of the project's 375,000 m² in total.
Team
Client consultant
NIRAS A/S
Engineering
Rambøll, Alectia, Søren Jensen Rådgivende Ingeniørfirma
Architect
C.F. Møller Architects in collaboration with Cubo Arkitekter
Landscape
Schønherr Landskab
Artist
Sophia Kalkau, Hanne Nielsen & Birgit Johnsen
Collaborators, other
Lohfert & Lohfert
Awards
Building Better Healthcare Award - Best International Design. 2017
1st prize in international architectural competition. 2007
Energy and sustainability
| | |
| --- | --- |
| | High performance thermal insulation |
| | |
| --- | --- |
| | Daylight |
| | |
| --- | --- |
| | Photovoltaic cells / solar heating |
| | |
| --- | --- |
| | Ventilation |
| | |
| --- | --- |
| | Passive solar design |
| | |
| --- | --- |
| | Energy efficient design |
| | |
| --- | --- |
| | High insulation values |
| | |
| --- | --- |
| | Low energy windows |
| | |
| --- | --- |
| | Phase changing materials |
| | |
| --- | --- |
| | Green Roof |
| | |
| --- | --- |
| | LCA |
| | |
| --- | --- |
| | Sustainable planning |
| | |
| --- | --- |
| | Rainwater harvesting |
| | |
| --- | --- |
| | Prefabricated components |
| | |
| --- | --- |
| | Energy renovation |
| | |
| --- | --- |
| | Flexibility |
| | |
| --- | --- |
| | LED |
| | |
| --- | --- |
| | Healthy building |
| | |
| --- | --- |
| | Noise minimization |
| | |
| --- | --- |
| | Natural ventilation |
| | |
| --- | --- |
| | Certified building |
| | |
| --- | --- |
| | Low-energy standard (2015) |
References
2017 AD #2, vol. 87, p.32-41
2017 Speech #19, p. 182-183
2017 I-Hospital & Welfare, Archiworld. p. 188-195
2015 Beton, p. 8-11
2015 Byggeplads.dk, #3 2015, p.84-86
2015 Byggeplads.dk, #4, 15, p. 50-51
2015 De Architect. oktober 2015, p.20
2015 Istanbul Art News #13, p.22-23
2014 Byggeplads.dk, 2014, #6, p. 74-76
2013 Bygge Information #1, p. 22-23
2013 Creative Diagram In Architecture, p. 112-113
2012 Byggeplads.dk, #3, p. 50-54
2012 Bauwelt #17, p. 20-27
2011 Arkitekten #07, p. 40-49
2011 Arkitekten #2, 2011
2011 World Health Design, July 2011, p. 36
2011 Architecture Competition Works, p. 258-263
2010 DNU bygges op i database og BIM (bips, byggeri informationsteknologi produktivitet samarbejde)
2010 Urbanisma and architecture #70, p. 82-103
2009 Beton #2, p. 10-13
2008 Health Estate Journal
2008 Slovensko Reality, #5, p. 62