Akershus University Hospital (New Ahus)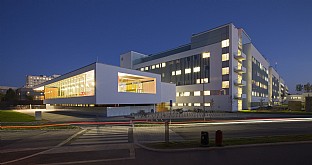 Client
Helse Sør-Øst RHF
Address
Nordbyhagen, Norway
Size
137000 m² (118,000 m² new building, 19,000 m² rebuilding, 133,000 m² hospital area and 10,000 m² laboratories ) - 565 beds
Year
2000-2014, 2014-2015
Competition
1st prize in international competition. 2000
The Akershus University Hospital is not a traditional institution building; it is a friendly, informal place with open and comprehensible surroundings oriented towards the patients and their relatives.
The hospital's various departments all differ in their dimensions, form and expression. The wards have one kind of architectural expression, while the treatment departments have another, and the children's clinic has an expression all its own. This helps to create a varied visual experience, while at the same time making it easy to find your way around.
The design of the complex reveals the influence of the high priority given to daylight for all workplaces, views of the surrounding landscape, and contact with the outside environment. A glass-covered main thoroughfare, in which wood is the dominating material, links the various buildings and functions. This glass street forms the hospital's main arterial route, and is structured as a series of open spaces of differing character, offering various functions such as kiosk, pharmacy, hairdresser, church and café.
The short distances between the functions, the clear organisation and the modern technology give the staff more time for their patients.
The extension of the hospital's emergencies department was completed in 2014. Work on Akershus University Hospital will continue with a number of refurbishments and extensions throughout the period of the framework agreement, which lasts until 2015.
Team
Construction
NCC Norge
Engineering
Multiconsult AS, SWECO AS, Hjellnes COWI AS/, Interconsult ASA
Architect
C.F. Møller Architects
Landscape
Bjørbekk & Lindheim AS, Schønherr Landskab A/S
Artist
Troels Wörsel, Gunilla Klingberg, Mari Slaattelid, Knut Henrik Henriksen, Jan Christensen, Tony Cragg, Birgir Andrésson, Petteri Nisunen, Tommi Grönlund, Julie Nord, Per Sundberg, Vesa Honkonen, Janna Thöle-Juul, Kristine Halmrast, Mikkel Rasmussen Hofplass
Awards
European Healthcare Design 2016 Awards - highly commended. 2016
Design & Health International Academy Award, winner best international health project over 40.000 m². 2015
Best International Design - Building Better Healthcare Award. 2009
1st prize in international competition. 2000
Energy and sustainability
| | |
| --- | --- |
| | Daylight |
| | |
| --- | --- |
| | Ventilation |
| | |
| --- | --- |
| | Energy efficient design |
| | |
| --- | --- |
| | Green Roof |
| | |
| --- | --- |
| | LCA |
| | |
| --- | --- |
| | Sustainable planning |
| | |
| --- | --- |
| | Rainwater harvesting |
| | |
| --- | --- |
| | Flexibility |
| | |
| --- | --- |
| | Healthy building |
| | |
| --- | --- |
| | Natural ventilation |
References
2018 Hospitals - a design manual, p. 196-199
2017 AD #2, vol. 87, p.32-41
2017 Umran Magazine vol. 17, #62, p.1, 35-43
2016 Dagens Byggeri #395, p. 18
2015 Dagens Byggeri, # 388, p. 18
2014 A new golden age NORDIC architecture & design, p. 48-51
2014 Hospital Design + 1, p.104-107
2014 Restoratiivisen ympäristön suunnittelu, p. 17
2013 Twentyfirst #01, p. 82
2013 Ottagono, #256, p. 136-139
2013 Contemporary Danish Architecture, p. 71
2013 Sustainable & Green Building, 3, p. 146-163
2012 C3, #336, p. 38-43
2012 Ottagono #192, p. 13-16
2012 Architecture Report, p. 262
2012 Hospital Architecture, p. 92-95
2012 World Green Buildings, p. 88-95
2011 Arhitext #217, p. 74-77
2011 Puls 02, Medical/Wohnen im Alter, p. 36-39
2010 Arkitekten, p. 82
2010 Byggeri+Arkitektur, #35, p. 30
2010 [ark] The StoJournal for Architects 04, p. 21
2010 Interior Public space #12, p. 142-147
2010 NHS Design Champion News, March
2010 Urbanism and architecture #70, p. 82-103
2010 Omni #7 Hospital (Archiworld) p. 38-47
2009 byggeplads.dk #3, p. 20-21
2009 Tidsskrift for Dansk Sundhedsvæsen #4, Klavs Hyttel: Fleksibilitet og standardisering er altafgørende.
2009 Monocle #21 vol. 3, p. 109-113
2009 Taiwan Architect #4 (412), p. 30-31
2009 Tecnica Ospedaliera #10, p. 38-44
2008 Byggeri #8, p. 30
2008 Glass & Fasade, p. 17-20
2008 More than meets the eye - about the art in Nye Ahus
2007 Byggenytt #9, Tema: Nye Ahus
2006 Arkfokus #3, p. 4-5
2006 Global Danish Architecture #1, p. 174-175
2005 Tidsskrift for Dansk Sundhedsvæsen, #1, p. 8-10
2005 HMT (Helse, Medisin, Teknikk) #5 Tema: Nye Ahus
2004 C.F. Møller: Samfund og Menneske