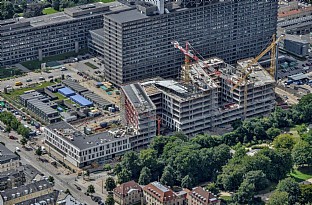 The North Wing of Rigshospitalet, Phase 2, Client Consultancy
The new North Wing at Rigshospitalet in Copenhagen will accommodate patient wards, operating theatres, support functions and administration. In addition, a tunnel connection and a footbridge to the current hospital are to be constructed.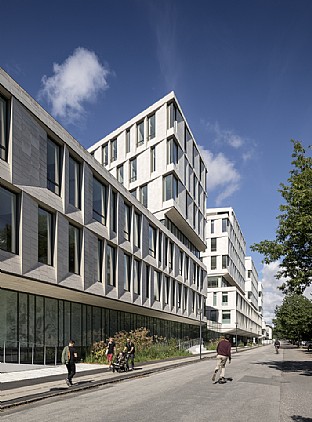 Fakta
Auftraggeber
Region Hovedstaden
Adresse
København Ø, Danmark
Projektsteuerer
C.F. Møller Architects
Ingenieur
Oluf Jørgensen - client advisor SWECO
Architekt
LINK Arkitektur and 3XN in collaboration with Nickl & Partner
Weitere Kooperationspartner
Architects - Link & 3XN
C.F. Møller Architects is the client consultant on the new North Wing of Rigshospitalet, Phase 2. The building is built on eight floors towards the west tapering to three floors to the east by Blegdamsvej. It is divided into seven sections that are angled against each other in a zig-zag structure to create shorter distances between the respective functions.
The building is divided into two phases: Phase 1 comprises of 54,700 square meters and Phase 2 comprises of 8,100 square meters. Phase 1 is under construction, while Phase 2 has been offered as a turnkey contract and was initiated in early 2018 with C.F. Møller as client consultant.
Phase 2 is the eighth section of the North Wing's "zig-zag" structure and is constructed over 7 floors including a basement. The building is mainly comprised of office facilities for clinics and research, the ambulatory functions of the Neuro-centre, clinical trial units and laboratories.
Gallery