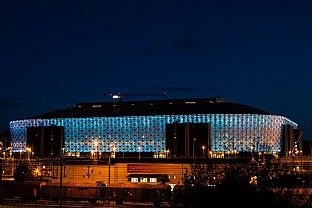 Friends Arena, Multi-Arena
Friends Arena is Sweden's new national stadium. It is built to house all types of events and seats 50,000 for football games, while concerts and other events can accomodate up to 65,000 spectators.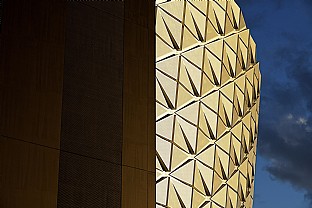 Fakta
Auftraggeber
Svenska Fotbollsförbundet, Solna Stad, PEAB, Fabege og Jernhusen
Adresse
Stockholm, Sverige
Architekt
C.F. Møller Architects und Arkitekterna Krook & Tjäder in Zusammenarbeit mit Populous
Weitere Kooperationspartner
Projektengagemang, Mats Strömberg Ingenjörsbyrå, HOK Sports
Preise
IOC/IAKS Award - Bronze. 2015
The arena has a retractable roof made up of two enormous plates that can be opened and closed within twenty minutes. This allows for events to be held in a pleasant climate all year round. The arena is thus suited for all types of playing fields, such as grass, clay, gravel, ice or water - no matter the season. The stadium building forms part of a major new urban area, including housing, offices, commercial spaces and sports facilities.
Gallery