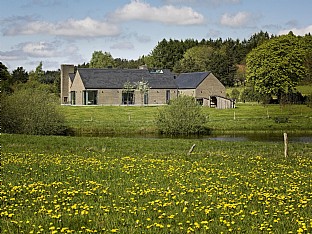 Villa G
Villa G lays in a protected area, surrounded by fields and woods, just a few hundred metres from the river Gudenåen, on the site of a former four-winged smallholding. The new building is an interpretation of exactly such a classic farmhouse layout: The basic forms are the same, but as a modern twist, the wings containing the residence, a commercial part and a garage are slightly offset with respect to each other, and the outlines of the building volumes are precise and prismatic.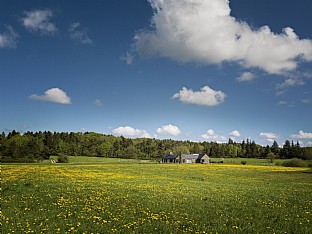 Fakta
Adresse
Gjeskelund, Engvej 3, Gl. Rye, Danmark
Fläche
435 m² housing, 110 m² business and 75 m² parking/plant
Bauausführung
Brdr. Thybo A/S
Architekt
C.F. Møller Architects
Landschaft
C.F. Møller Architects
The aim has been to make the new buildings fit naturally into the sensitive, protected green environment. The villa is built of textured bricks in muted earthy colours and black slate roofs, a material that is repeated in the courtyard and terrace paving, and the idea was to let the wild continue right up to the foot of the buildings, so that for example the landscaped orchard can be perceived as an integrated part of the surrounding landscape.
The interior of the villa is characterized by its tall and free-flowing spaces, skylights and large window openings that let generous amounts of daylight in, and frame the many beautiful views over the natural grounds as a form of real-life landscape paintings. The villa is a low-energy house relying on ground-heat.
Gallery