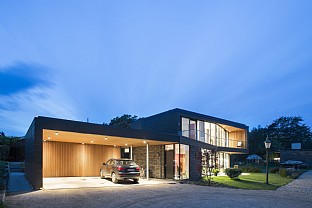 Villa U
Villa U is a two-storey single family home near Aarhus located in beautiful surroundings with scenic views. The house, which takes full advantage of the view and its proximity to nature on three sides, is organised around a tall double-height central space with sky-lights, accompanied by a sculptural staircase and brick fireplace offering ample space to exhibit works of art. This room is the heart of the house, tying together every room with open views spanning both floors of the home.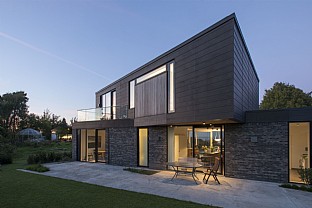 Fakta
Architekt
C.F. Møller Architects
Landschaft
C.F. Møller Architects
The ground floor and upper floor are designed as mirrored parallelograms, creating a vast array of open and covered terraces and niches on both levels, framed by a facade of dark patinated zinc with a warm-toned inner lining of hardwood mouldings.
The house is equipped for wheelchair use with a special residential elevator. The ground floor has a living room, kitchen and bedrooms with direct access to cast terraces in the surrounding landscape, as well as a foyer and utility room in extension of the integrated carport. The upper floor features a living room with terraces facing both east and west, as well as a large bedroom with its own bathroom, walk-in closet and morning terrace. The carport roof is home to a green roof garden.
Large tile floors, pigmented oak floors, handmade kitchen units and custom-fired brick provide a contrasting balance with the house's light tones, forming textural surfaces that accentuate the ever-changing light. The home's proximity to green surroundings is enhanced by the generous, floor-to-ceiling glass walls and flowing transitions between indoors and out.
Gallery