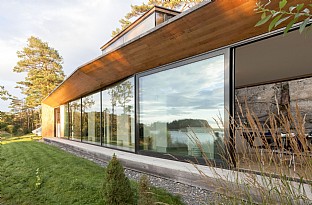 Slottsvika Cabin
The modern Norwegian wood cottage lays on a long narrow plot, approximately 50 m from the water, located alongside a cliff, and is designed to make the most of the panoramic fjord views of the archipelago. The solid wood construction on a concrete base is set up as a replacement cabin for two small huts which stood on the site, and consists of 4 bedrooms plus two bathrooms, a living room / kitchen and a rooftop lounge (nicknamed the "lantern").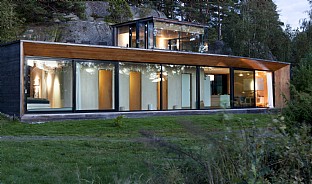 Fakta
Auftraggeber
The Kiste Bryne Family
Adresse
Vesterøya, Sandefjord, Norge
Architekt
C.F. Møller Architects / Dahle & Breitenstein AS
The cabin's most notable space is the outdoor terrace, in the gap between the 15 meter high rock ledge in the east and the cabin's east facade.
The rock face warms up during the day, and makes the summer evenings extra warm. The floor-to ceiling sliding or folding glass-facades of the living room frame the surrounding fjord landscape like live paintings.
The roof is green and covered with sedum of indigenous plants, and the rooftop lounge is a special feature, protruding like a wheelhouse, designed with the desire to create an indoors that brings residents as close to the natural setting as possible - with 180 degrees panoramas of the archipelago and the sunset.
Gallery