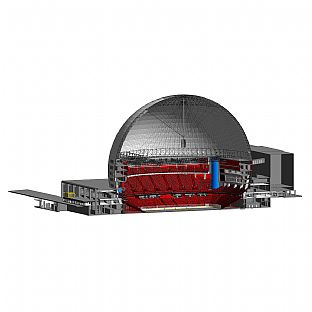 Digital Methods
C.F. Møller Architects are frontrunners in using BIM (Building Information Modeling). Our industry leading BIM methodology ensures our designs are fully digital. This approach greatly benefits our clients, giving them insight into the projects. 
We have been active through non-profit industry groups in developing an open-source type coding standard. These standards are now widely accepted and used in both use in Denmark and Sweden. Today, all C.F. Møller projects use this type of code allowing us to easily adjust to market specific requirements by mapping to any classification system.
Using BIM, C.F. Møller Architects has successfully delivered a long series of highly demanding designs throughout sectors such as healthcare, science architecture, flagship building, international corporate HQs and complex infrastructural projects, with a focus on creating value for clients, project partners, users/stakeholders, and facility management through fully integrated design processes.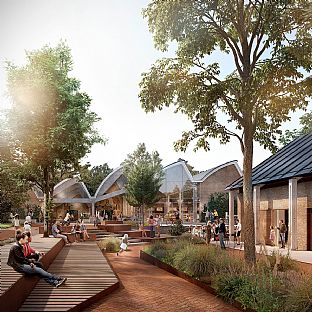 Simulation of Building Characteristics
Every aspect of the design process is intelligently integrated with meaningful and relevant information. Information such as; materiality, wind flow, flooding, cost information, fire qualities, sound absorption, life cycle information, delivery times, operational costs, and environmental impact and any other number of project relevant properties/ qualities. Our robust approach allows us to scale up and down the data of a project to achieve the most beneficial projects for our clients.
Using BIM, the design team can, for example, simulate how the wind will move around and through a building, and how ventilation and wind speed will change if the building's structure or surface material is altered. Further, our models can provide real-time photorealistic visualizations as well as VR (virtual reality) outputs that are used for client communication, user involvement and immersive model quality checks.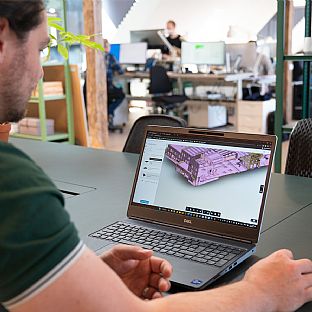 More effective
In our BIM project approach, we split our geometry in 3D models and our data into connected databases. These databases can read data dynamically, creating a bilateral flow of information enriching the database and 3D Model alike. This offers an unparalleled opportunity to process and compare project data between the different types of software. This ensures that information can be checked and shared both visually and numerically. The linked databases open for a smoother integration of the entire design team input from the first building program onwards and give clients the option of early incorporation of bespoke FM-data, equipment lists to manage furnishing and fit-outs etc., taking advantage of the models' visual "what-you-see-is-what-you-get" quality.
The use of BIM through all stages of a project also means that our planning integrates with the Virtual Design & Construction (VDC) workflows of contractors and contemporary methods of construction such as pre-fabrication and digital fabrication. The potential ranges from managing and optimizing quality, time, and cost in the construction process, to enabling early impact-assessments of the construction sequences for clients, contractors, and building authorities.
Our Common Data Environment (CDE) is the Autodesk Construction Cloud. All project data is hosted on the CDE and is easily accessible to all project participants. Centralizing all project data creates a "single source of truth" for the project, increasing project quality and reducing risk.
Meet our Digital Methods Manager
Filip Westin, Digital Methods Manager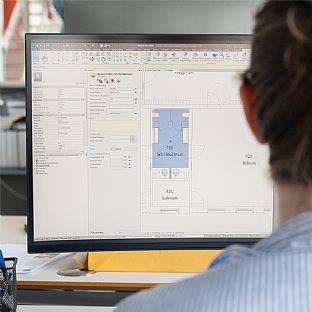 C.F. Møller Architects Digital Methods Organization
C.F. Møller Architects has a comprehensive Digital Methods organization, ranging from strategic management to daily BIM-coordination in the projects, addressing the challenges encountered by the entire project team in this information-intensive project design environment.
All project design staff are trained in our standard software suite. Each office is supported by a local Digital Methods Lead. We run fixed courses and have internal workshops to constantly increase our employees' competences.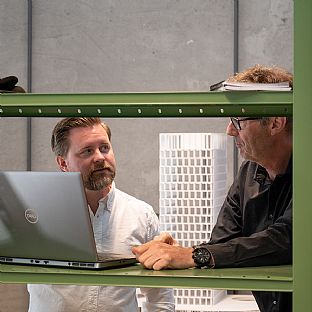 We work with the following software:
• Pre-design: Rhino
• Project design: Revit
• Collision control: Navisworks and Solibri
• Building component database: dRofus
• Quantity takeoff: Revit, dRofus
• Planning: dRofus
• Visuals: Twinmotion, Enscape and 3ds Max
• Computational Design: Grasshopper and Dynamo