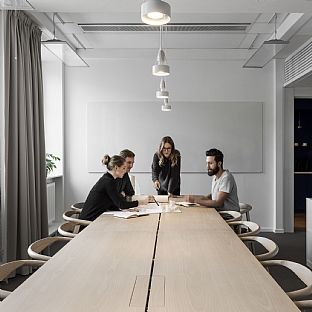 Client Consultancy
C.F. Møller Architects is the client's closest strategic partner in construction processes. C.F. Møller Management provides advice on user consultation, change management, space planning, logistics, client consultancy and organisational development.
How can clients obtain maximum benefit from creating new buildings for their organisation?
How can employee motivation be linked with the management's vision for a building?
How can the client best control agreements and processes when a building is created?
How can the users' knowledge be collected so that it can contribute value to a project?

C.F. Møller Architects can draw on over 80 years of experience when we advise private and public clients in questions like these.

Our multi-disciplinary team of consultants and architects works strategically with our construction projects.

We link our management services with the architectural design process. This approach is used in many different contexts - such as when we are helping a client to prepare a project for tendering, or when planning logistics for an airport. Or when the experiences of 200 hospital employees need to be applied in the practical organisation of a hospital. Or when a company builds a new domicile, shifting people out of their familiar environment, and wishes to make use of this change as an opportunity to develop the organisation.