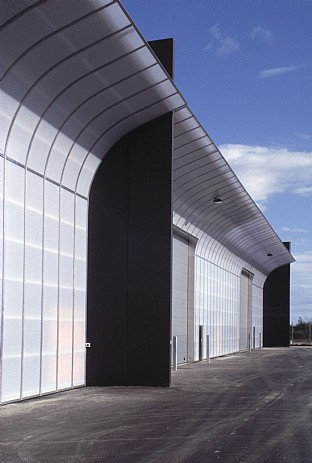 Port of Aarhus, Warehouses 302 and 304
The Warehouses 302 and 304, with facilities for storage and offices, are placed on the eastern port areas. They are constructed as simple 40 meter steel frame spans, resulting in column free interiors, with facades, overhangs and skylights of polycarbonate panels. These facades give a distinct, translucent appearance, integrate doors and windows, and terminate in a two metre roof overhang. This shelters the doors and facades, and makes the most of the material, as the overhang is continuous with the facade panels, curved to the smallest possible radius.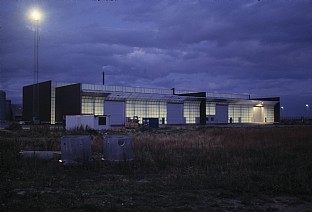 Fakta
Auftraggeber
Port of Aarhus
Bauausführung
MT Højgaard NCC
Ingenieur
Ingeniørfirmaet Henry Berthelsen A/S Rambøll Sten Ejsing rådgivende ingeniørfirma A/S
Architekt
C.F. Møller Architects
The translucent facades and skylights provide a significant improvement in the work environment as well as savings on electrical lighting, and at night transform the buildings into glowing beacons of port activities. Behind the panels, free standing offices and other elements are painted in a vivid lifeboat-orange colour, adding even more to the depth and play in the facades.
Gallery