Lean, Green and Digital with BIM
More effective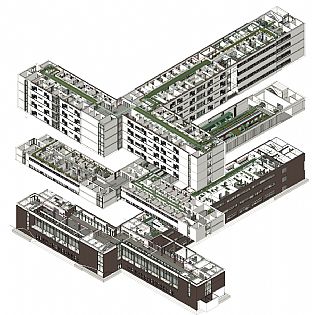 More effective
Throughout the building's life cycle - from idea to financing, building, ongoing operation, and demolition, digital building models are at the hub of all construction project activities, and the cooperation between the various parties. BIM means closer cooperation between the parties and extends to every player taking part in a project.
In our BIM project design, the 3D models are not in files, but in databases that can read data interactively, and thereby enrich each other. This offers a previously unseen opportunity to process and compare data between the different types of software and ensures that information can be checked and shared both visually and numerically. We actually do split data and geometry. The linked databases open for smoother integration of the entire design team input from the first building programme onwards and give clients the option of early incorporation of bespoke FM-data (what is that?), and equipment lists to manage furnishing and fit-outs etc, taking advantage of the models' visual "what-you-see-is-what-you-get" quality.
The use of BIM through all stages of a project also means that our planning integrates with the Virtual Design & Construction (VDC) workflows of contractors and modern methods of construction such a pre-fabrication and digital fabrication. The potential ranges from managing and optimizing quality, time and cost in the construction process, to enabling early impact-assessments of the construction sequences for clients, contractors and cities.
Working with BIM to ensure our designs are "Lean, Green and Digital", this puts everything from idea to financing, construction and ongoing operation on a more secure, effective and streamlined basis as a tangible benefit to everyone involved in the creation, ownership and use.
C.F. Møller Architect's tools