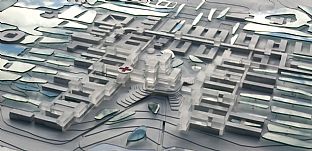 Sustainable hospital
How do you think sustainability into a complex university the size of a Danish provincial town with 100,000 admitted patients and 900,000 outpatient treatments each year?
The biggest hospital construction project in Danish history, the New University Hospital in Aarhus, will be built onto the existing Aarhus University Hospital, Skejby, to form a combined hospital complex of 375,000 m2.
The project represents the future demands and expectations of a university hospital in Denmark, and the team behind the new hospital is working to make it as sustainable as possible - economically, socially and environmentally.
The large hospital complex will be organised like a town, with a hierarchy of neighbourhoods, streets and squares providing the basis for a diverse, dynamic and green urban area as well as intuitive wayfinding by the users. The project is pioneering in the development of 'Healing Architecture' in the Danish health sector, including the use of Evidence Based Design.
The hospital has been designed to flexibly accommodate future requirements with regard to technology, forms of treatment and working practices, and it will also bring about a considerable qualitative lift in both the experiences of patients and the working conditions of the staff.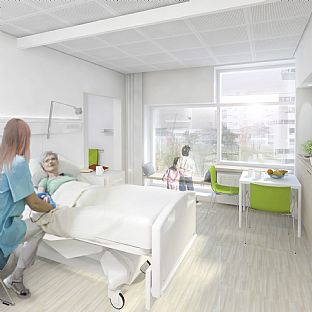 Evidence-based design
In recent years, a large number of studies have shown that aesthetics and the physical surroundings, such as daylight, good acoustics and the presence of nature, can have a significant effect on the healing process. This knowledge helps health sector planners and architects to find answers to practical questions of hospital organisation. It is called evidence-based design.
Evidence-based design has been used in the project to create healing environments that promote physical and mental well-being and healing processes, support the participation of relatives, help staff to be more efficient, and reduce stresses and loads. The design decisions have been based on the best available knowledge from research and project evaluations, and have been assessed in relation to the unique conditions of DNU.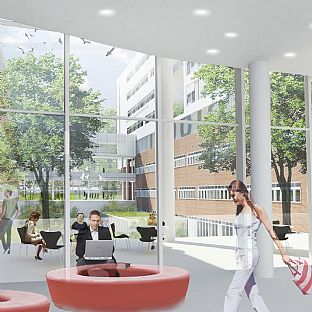 A better working environment through user consultation
We have systematically incorporated working environment considerations into the planning and design of the hospital. The aim is to minimise loads and risks, and to promote health and safety, when the hospital is used. Through extensive user consultations with hospital staff, patients and relatives, we gathered knowledge about the working environment. The primary focus was on the design and organisation of the departments, functions and rooms.
An ambitious working environment policy also sets targets for working environment conditions on the actual DNU construction site.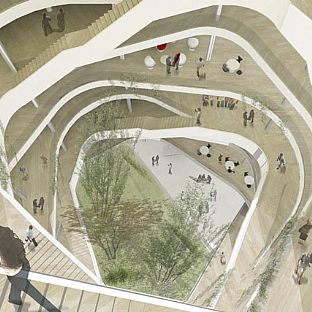 Noise and acoustics
Noise and acoustics are regulated by the Danish building regulations; however, we have introduced further measures in areas not directly covered by the regulations, or where the requirements were sharper in relation to creating an optimum working environment and acoustically improved treatment, recuperation and relaxation environments.
The practice's initiatives have included stricter requirements towards acoustic regulation in wards, treatment rooms and public areas, and reduction of noise from hospital equipment in wards and treatment areas. This has for example been done by screening off or moving noisy medical equipment, and by selecting quieter call and alarm systems.

Future proofing and flexibility
The treatment options in the health service are in continuous rapid development, and the hospital service is subject to ongoing optimisation and streamlining. An important design goal has been to ensure that the New University Hospital in Aarhus can meet future demands for technology, therapies and techniques.
We have incorporated a number of solutions in the project to support this goal. For example, the building structures are typified, and generally utilisable. Extensions are possible throughout the building structure, the materials are sustainable and we use energy-optimised solutions. The hospital is also prepared to support for fully-automated goods transport systems and fully-digitalised ordering routines.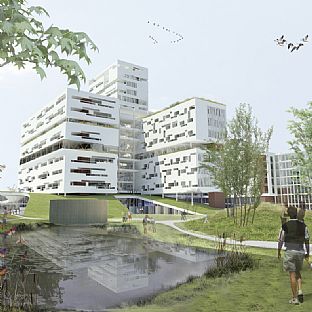 Energy efficiency
The hospital is designed to meet Danish building regulation BR2015 for low-energy class 1. We have also developed a system solution that reduces energy consumption in ongoing operations and utilises excess heat from lighting and medical equipment, etc., to meet the cooling demand. The system consists of a combined heating and cooling plant with absorption cooling equipment, heat pumps and a free-cooling system, supplemented with conventional heating.
The hospital will use ventilation systems with so-called rotary heat exchangers for heat recovery (transfer of heat from the extracted air to the intake air). Rotary heat exchangers take up less space, are less expensive and provide a better indoor climate.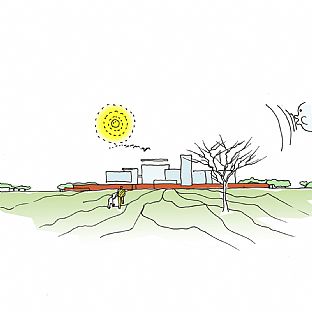 Sustainability score for DNU
The issue of how sustainable DNU can or should be is, besides being a question of ambitions towards sustainability, is also a question of economics. The construction budget for the project has been greatly reduced, but without altering the treatment capacity requirements or room sizes. This has resulted in reduced funds for specific sustainability purposes.

We have calculated the sustainability score for the project to be 45-50% on the basis of the BREEAM system. By comparison, NHS hospital buildings in several places in the UK must on the basis of this method achieve a score of 70%, "excellent", to meet sustainability requirements.

But as sustainability is in many areas simply a visualisation of common sense, operational benefits and environmental concerns, sustainability can generally be secured by showing prudence and diligence in the planning and design, and does not therefore require extra construction expenses.