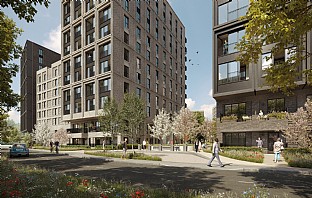 Blackwall Reach
C.F. Møller was successful in winning an invited competition to design a new residential development, which forms the third phase of the ongoing Blackwall Reach regeneration project in East London.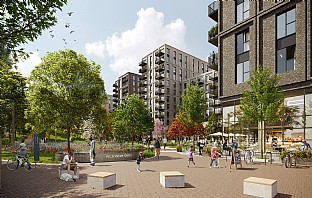 Fakta
Auftraggeber
Swan Housing Association
Adresse
Poplar, London, United Kingdom
Architekt
C.F. Møller Architects
The site sits in a unique location in Blackwall in East London, flanked by the Blackwall Tunnel approach to the east, looking towards the Thames to the south, and is close to Canary Wharf, Greenwich Peninsula and the Poplar markets. Formerly Robin Hood Gardens, the site previously housed two architecturally distinct Brutalist housing blocks, designed in the late 1960s by the late British architects Alison and Peter Smithson. The C.F. Møller proposal looks to respect the architectural heritage of the site and carry through aspects of the intentions of the original buildings.
With a strong existing community and the addition of many new residents, the proposal must seek to enable communities to engage and foster a sense of place. The impetus for the design process then became the development of a robust mixture of housing typologies. The proposal also looks to address the different edge conditions of the site whilst retaining the existing, mature 'Millenium Green' landscape at its core. The massing is defined by two open-corner courtyard buildings along the eastern edge. Alternate setbacks and intermittent tower elements aim to punctuate the rhythm of the blocks and decrease the overall footprint of the proposal. C.F. Møller deemed an active, ground floor public realm vital to the success of the project and incorporated community facilities and retail, beyond the brief.