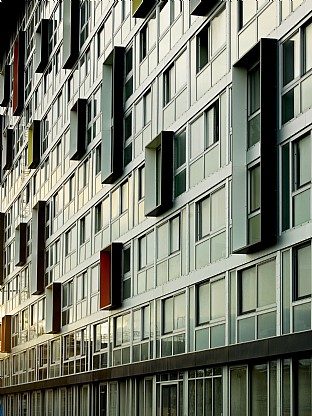 Magisterparken, Himmerland Housing Association
Renovation and restructuring of public housing complexes with energy renovation, new types of housing, accessibility and communal areas.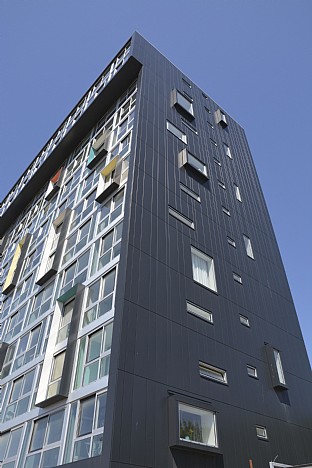 Fakta
Auftraggeber
Himmerland Housing Association
Bauausführung
Facades; Fjelsø Entreprise
Ingenieur
Moe & Brødsgaard
Architekt
C.F. Møller Architects
Landschaft
C.F. Møller Architects
Weitere Kooperationspartner
With support from Landsbyggefonden
Preise
The Matilde Baffa Ugo Rivolta European Architecture Award - Mention for the research and technical and constructive innovation. 2017
Nominated for the Renover Prize. 2016
Aalborg Kommune Architekturpreis. 2016
The residential complex dating from 1964 has faced technical structural problems for some time, requiring extensive renovation of the 13-storey residential high-rise block and the adjacent nine three-storey buildings. Besides concrete damage, damp penetration, lacking insulation and thermal bridges, the homes were generally outdated and less attractive.
The high multi-storey building's concrete carcass is therefore being renovated, while also combining some flats into larger units, reducing the total number of homes from 169 to 120. Several flats are being combined vertically, resulting in strikingly modern new flats. At the same time, the façades of both the multi-storey building and the smaller buildings are being renovated, giving them a more coherent architectural expression. The windows are enlarged, giving the flats significantly more light and better outlooks, and the façade design of the three-storey homes is varied with bay windows, framed windows and perforated metal sections that create exciting light and shadow effects.
The high multi-storey complex will have a more striking profile, as the two top floors' balconies extend beyond one side of the building, creating special "penthouse flats", and several homes adapted for the disabled will also be established. The outdoor areas are also being upgraded, with new vegetation, activities and recreational areas, and the buildings' ground floors are being opened up, with access to terraces and small gardens.
Gallery