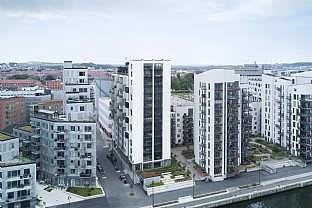 Siloen, Østre Havn in Aalborg
The DLG Tower is the final big residential construction project at the central waterfront of Aalborg in the neighborhood Musikhavnskvarteret. The former grain and animal feed silo will contain 18 family apartments, 62 youth apartments and 34 owner-occupied apartments.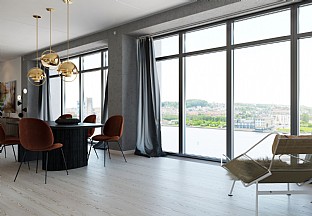 Fakta
Architekt
C.F. Møller Architects
Landschaft
C.F. Møller Architects
The Eastern Port of Aalborg is being transformed from a commercial port to an attractive new urban quarter. The aim of the transformation of the Eastern Port is to create an urban quarter that arises from the encounter between the industrial cultural heritage, modern architecture of high quality, and an active urban life.
Some of the port's striking industrial buildings, which help to draw Aalborg's skyline, will be retained or reconstructed. The new residential complex is based on the reconstruction of the characteristic DLG silo. The silo's drying tower, which stands right on the waterfront, is being reconstructed in the tower's original geometry, but with a more modern expression. Behind the tower, the reconstruction of the silo's body is interpreted more freely, but within the original dimensions.
The reconstructed tower has owner-occupied flats with large balconies, and a unique view of the port and fjord. The silo's body holds public rental and youth residential units. The owner-occupied flats are available in two versions – a one-storey and a two-storey type. Both are inspired by the original industrial surroundings, with a "New York loft" atmosphere. All three types of home share communal areas located in the basement and on the ground floor, with a large communal outdoor area in front of the silo on the port side. All homes also have direct access to balconies through kitchens and living rooms.
The combination of the different types of housing and ownership forms will provide a setting for a socially sustainable local environment in which residents can meet across the generations. Furthermore, the residents' varying use of the building at different times of the day and night will generate an interesting local urban environment.
Gallery