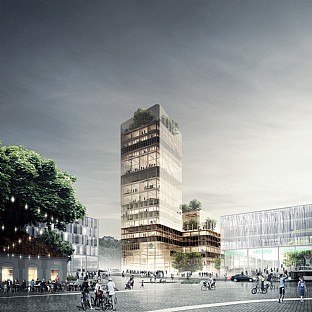 HSB 2023 - Hagastaden
The flats of tomorrow must present far more than their four walls can encompass. Besides attractive, functional and flexible rooms, the residential complex must offer better quality of life by weaving the lives of residents, the housing association and the town closer together, creating new synergies.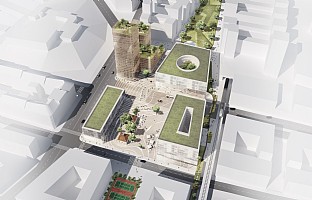 Fakta
Auftraggeber
HSB Stockholm
Adresse
Stockholm, Sverige
Wettbewerb
1. Preis im Architekturwettbewerb. 2013
Architekt
C.F. Møller Architects in cooperation with DinellJohansson
Landschaft
C.F. Møller Architects in cooperation with DinellJohansson
Weitere Kooperationspartner
Transsolar, DeBrand
Preise
1. Preis im Architekturwettbewerb. 2013
The multi-storey wood-construction housing complex, designed for Stockholm's new Hagastaden quarter, is intended to be a landmark in the new quarter, as well as an attractive destination for Stockholm's residents. Together with four other planned buildings, the multi-storey complex will be part of Norrtull, an attractive new public area of the city.
The multi-storey complex will welcome the city with, for example, a supermarket, café and restaurant, magazine library and large outdoor spaces. The complex will also give the city new visual experiences, including its timber structures, green rooftop terraces and a playground on one of the storeys, as well as a dynamic, varied façade that reflects the various types of flats behind it - ranging from student flats to urban villas and penthouse apartments.
The ground floor has a staffed lobby, with easy access to the housing association's many communal facilities, such as a kindergarten and workshops. A walk-in fridge for take-away meals and the opportunity to book bicycles and cars from the shared residents' pool are some of many initiatives to make everyday life easier for residents - just as the fitness centre and laundry facilities are situated adjacent to each other, so that both can be used at the same time.
Gallery