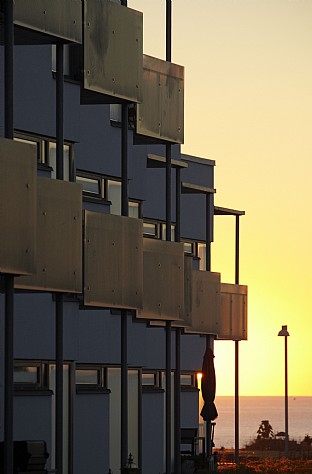 Sæby Strand - social housing
The seaside social housing development makes the most of a scenic site overlooking the Kattegat.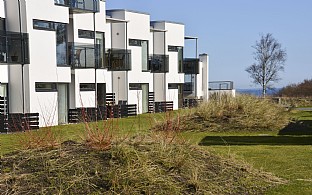 Fakta
Auftraggeber
Frederikshavn Boligforening
Fläche
8.000 m² (84 living units)
Wettbewerb
1st prize in competition. 2011
Bauausführung
Arne Andersen, Vrå
Architekt
C.F. Møller Architects
Landschaft
Rosseels Tegnestue
Preise
NBO Housing Award. 2014
1st prize in competition. 2011
The homes are distributed in four building volumes, and staggered to provide views and light to every single unit. All terraces and balconies are oriented towards the sea, and due to the angles of the volumes they all enjoy good privacy. The exposure of the homes optimizes passive solar heating, due to relatively closed northeast elevations along which bedrooms and bathrooms are located, and more open south-eastern elevations with full-height glazing revealing open kitchens and living rooms. The apartments, arranged as two, three and four bed units, are also designed to be flexible with possible reconfigurations of use. The development is low-energy class 2015 according to Danish building codes, with an energy consumption of less than 27 kWh/m2/year.
The outdoor areas have remained as a dune landscape, with lyme grass, fir and wild roses, and the buildings facades are simple and robust to harmonize with the surroundings.
Gallery