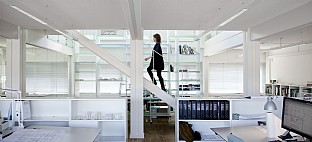 C.F. Møller Architects' branch office in Copenhagen
The Copenhagen branch of C.F. Møller Architects is housed in rebuilt premises in Holmen.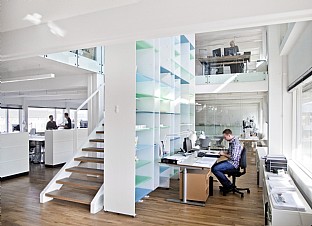 Fakta
Auftraggeber
Ringgade Centret
Adresse
København, Danmark
Fläche
1.208 m² (plus 157 m² basement)
Projektsteuerer
C.F. Møller
Architekt
C.F. Møller Architects
Weitere Kooperationspartner
Byggeselskabet Mogens de Linde A/S
The rebuilding, which focused on creating an open, dynamic and bright workshop, has retained the building's original industrial character, with storey-height rooms and visible interior columns and beams. The ground floor takes the form of a single large space that welcomes visitors with a reception area and cloakroom. The two upper storeys contain open-plan offices connected by a staircase aperture and specially-designed shelving in transparent thermoplastic that spans two floors, bringing character to the premises with its blue/green colour palette. The office environment is equipped with meeting rooms – some closed, others semi-open or open with glass walls. The decor is in C.F. Møller's own design, including the CFM06 Lounge Series.
The rebuilding has not affected the building's exterior facade.
Gallery