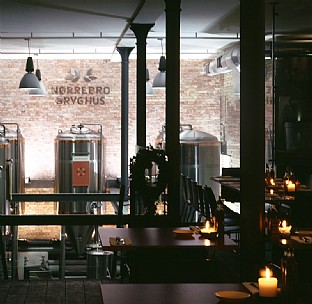 Nørrebro Bryghus
Nørrebro Bryghus (Nørrebro Brewhouse) combines a brewery, a restaurant and a bar with room for 150 dining guests and 100 bar guests, respectively.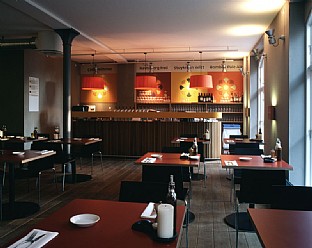 Fakta
Auftraggeber
Bryggeriet Cosmo A/S
Adresse
Copenhagen, Danmark
Ingenieur
Elingeniører JJ BYG Stig Asger Jensen Rådgivende vvs-ingeniører Rådgivende konstruktionsingeniører Flemming Rostgaard
Architekt
C.F. Møller Architects
Weitere Kooperationspartner
C.W.Obel A/S
The complex has been laid out on three staggered levels in a former metal goods factory, in which the building's original industrial expression has been retained in order to emphasise the atmosphere of a working brewery where good craftsmanship is vital. The brewery's beer vats form the visual linchpin in a decor that balances a rustic workshop style of sand-blasted brickwork and oak plank floors with simple, minimalist furniture and details.
The brewery has received several awards for beautiful and coherent design.
Gallery