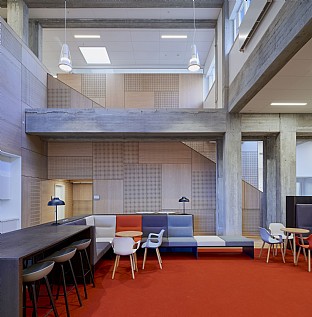 Panum - Faculty administration
The renovation of the HEALTH faculty at the University of Copenhagen has converted previous storage rooms and dark corridors into a modern, bright and varied working environment with room for new forms of cooperation, and due respect for the Panum Institute's characteristic architecture.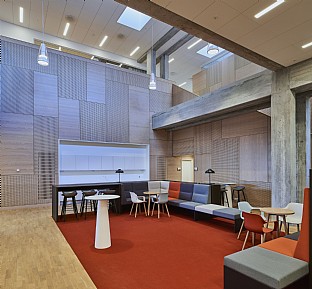 Fakta
Adresse
København, Danmark
Bauausführung
ELINDCO Byggefirma and Wicotec Kirkebjerg
Ingenieur
EKJ rådgivende ingeniører
Architekt
C.F. Møller Architects
The original ceiling height has been re-created, the raw concrete structure is still apparent, and there are visible ceiling installations, while the original Panum colours are integrated in striking areas and the existing Panum light fittings were reused and converted to LED light sources.
The open-plan offices, including the Dean and Faculty administration as well as workspaces for Panum operations staff, are supplemented with good meeting facilities – classical conference rooms, partly open meeting spaces and open lounge areas. A targeted user process with a high level of involvement and a vision seminar for the entire operations department has ensured that the new premises matched users' needs and requirements in terms of form and design, and also create an identity in relation to the users' work tasks and roles.
The conversions also made it possible to focus on a holistic solution for the re-creation and renovation of the building's façades, to bring plenty of daylight into the workspaces in the building, and also create a façade that was adapted to the building's architecture and original façade elements. For the east- and south-facing façades, the existing closed panel façades were adapted, adding recurring window bands with the same geometry and form as the rest of Panum. To ensure enough daylight for the office space here, the characteristic recurring slit windows are repeated in the solid brick base of the ground floor, while skylights break through the first floor to the ground floor, so that daylight can flow down through the building.
Gallery