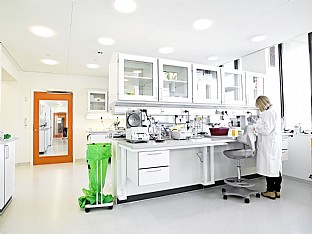 Der Panum Komplex – Laboreinrichtung
Alongside our work on the extension of the Panum complex, C.F. Møller Architects also has a separate framework agreement for the renovation of the existing Panum complex. The work includes refurbishment of laboratories, exterior renovation, building maintenance and minor extensions.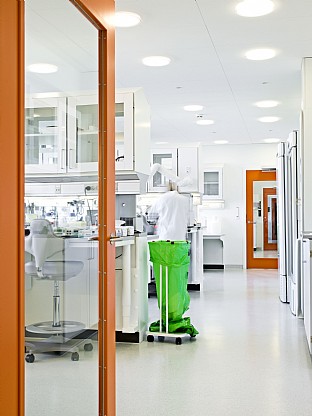 Fakta
Auftraggeber
Bauherr BYGST, Universität Kopenhagen
Adresse
Kopenhagen, Danmark
Fläche
141.000 Fläche m², davon 10.000 m² Renovierung
Ingenieur
Technik EKJ Rådgivende Ingeniører
Architekt
C.F. Møller Architects
Künstler
Tonning Rasmussen
The laboratory design utilises a colour palette and surfaces which match the original concept developed by the Danish artist Tonning Rasmussen for the complex when it was built in the early 1970s. These colours are repeated in the design of the doors, radiators and radiator screens.
The laboratories and office areas have a friendly and open appearance, with bright new surfaces and glass in the ceilings, floors and walls. Glass walls provide light and transparency, while translucent plastic areas in the glass ensure privacy.
All of the laboratory tables, fume cupboards and LAF benches have a raise/lower function which we have developed in close co-operation with the users and manufacturers to meet GMO classifications, so that there will be no adverse health impacts on human beings or on the external environment as result of work with genetically modified organisms.
The laboratories are designed so they can be approved for GMO Class 1, Class 2 and GMO class animals without compromising the possibilities of the spaces to also promote opportunities for socal and professional interaction and knowledge sharing.
During the work of designing the laboratories, C.F. Møller Architects has taken part in continuous dialogue with the users – professors, doctoral students and lab technicians – to secure influence for the future users and ensure that all of the needs and wishes of the research groups have been elucidated.
Gallery