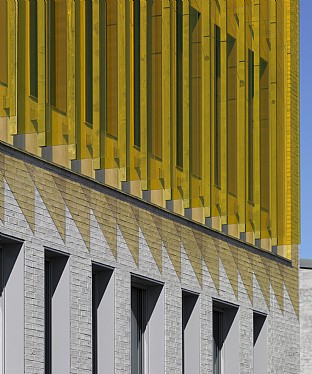 IHA Katrinebjerg
The new Engineering College, IHA, is located in the new local district "The IT-city" at Katrinebjerg in the northern part of Aarhus. The district is a former industrial area now being converted into a campus of educational facilities and start-ups, for instance The Incuba Science Park and The IT-park, who are dealing with Information Technology.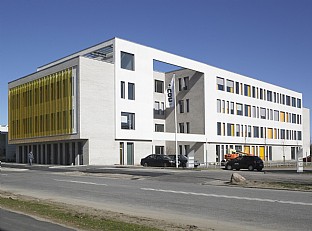 Fakta
Auftraggeber
Forskningsfondens Ejendomsselskab A/S
Projektsteuerer
Kuben Management A/S
Bauausführung
Jorton, Hustømrerne A/S, Bravida A/S , Lindpro a/s
Ingenieur
Søren Jensen Rådgivende Ingeniørfirma
Architekt
C.F. Møller Architects
Landschaft
C.F. Møller Architects
IHA combines educations such as electronics, information and communication technology as well as health technology and is a state-of-the-art institution housing 3.000 students, scientists, researchers, etc. The school consists of three buildings – one newly built and two renovated buildings – named after famous engineers: Edison, Kahn and Shannon.
The new building Edison stands out with its solid base of grey tiles, the white and polished façade of the inserted building case and the eye-catching gable, where vertical fins of yellow glass decorate the windows. The fins are both functional and a beautiful drapery; they work as a sun screen and give the building a noticeable identity. In the evening, the yellow glass comes alive: interactive LED light not only light up the fins, but make them vary in color according to how many students are active inside the house.
Gallery