C.F. Møller Architects in the final of an international competition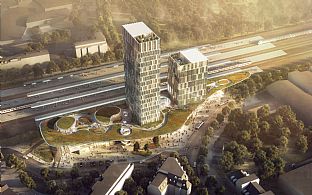 25.5.2018 | C.F. Møller Architects is the only Scandinavian company to qualify for the final of the competition to create a new station building and urban space in Altona, Hamburg, Germany.
A total of 15 firms of architects were invited to participate in the international competition and three of them have continued to phase 2, in which the proposals will be further considered after input from the client, which is the City of Hamburg in cooperation with the development company ProHa Altona and Deutsche Bahn Station & Service. Besides C.F. Møller Architects, GMP from Hamburg and Baumschlager Eberle from Austria, with offices in e.g. Hamburg, have been picked for the deciding phase.

The proposal from C.F. Møller Architects is distinguished by the creation of a new green, public urban space for the local community, while at the same time creating the infrastructure around the station, besides a hotel and an office building.

- "We are proud that we have been selected to continue to phase two of the competition for Bahnhof Altona in Hamburg. The project will be a beacon in the future development of the Altona Nord neighbourhood. Our vision for the project is to interconnect the station, urban quarter, hotel and office building with a distinctive green profile that reflects Hamburg's green focus. We look forward to continuing our work on the project in the coming phase, based on the feedback received from the client," says Mads Mandrup Hansen, partner and architect at C.F. Møller Architects, adding:

- "The concept behind our proposal has the ambition to set the standard for future transport hubs in cities. This means that our concept is based on an idea of openness and accessibility with an urban space that is focused on the needs of cyclists and pedestrians. The flow to and from the station interacts with a generous green strategy, and the building complex gives just as much back to the city as its footprint occupies by offering a green park on top of the roof. An extra feature is the project's climate adaptation, whereby the green roof can absorb large amounts of rainwater and delay the water's percolation." The station building, climate adaptation measures and a new park are thus combined in a single solution.

The final winner is expected to be found before the summer.
The other participants in the competition:
Auer Weber Assoziierte GmbH, Stuttgart (DE)
Carmody Groarke, London (GB)
Carsten Roth Architekt, Hamburg (DE)
Hadi Teherani Architects GmbH, Hamburg (DE)
HASCHER JEHLE Architektur, Berlin (DE)
LH Architekten I Landwehr Henke + Partner mbB, Hamburg (DE)
MVRDV, Rotterdam (NL)
Schmidt/hammer/lassen architects, Aarhus (DK)
schneider+schumacher Planungsgesellschaft mbH, Frankfurt a.M. (DE)
UNStudio, Amsterdam (NL)