Mjøsfronten
Mjøsfronten is a 50,000 square meter lakeside area in Hamar municipality, Norway. The project aims to create a vibrant meeting place and connect the city of Hamar closer to Lake Mjøsa, Norway's largest lake.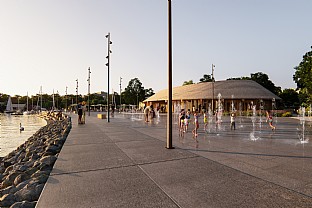 Facts
Client consultant
Kjersti Wold, kjersti@drivprosjektstyring.no
Architect
C.F. Møller Architects
Landscape
C.F. Møller Architects
Collaborators, other
Fragment Arkitekter
Hamar is known for its beautiful nature and proximity to Lake Mjøsa, which is one of Hamar's most important resources. The railway tracks have long been seen as a barrier between the city and Lake Mjøsa, so Hamar municipality has initiated the "Mjøsfronten" project with the goal of creating a new relationship between the city of Hamar and Lake Mjøsa. This is where citizens come closer together, across generations and cultural borders, in what constitutes the urban heart of the lakeside area. The landscape plan is divided into three main areas: Skibladnertorget, Solplassen, and Mjøsbadet. Skibladnertorget is a dynamic place with meeting spaces, workshops, cafes, tourist information, and opportunities for water sports. Solplassen serves as the city's urban connection to Lake Mjøsa and is a place for celebrations and meetings between people of different ages and life situations. Mjøsbadet includes a city beach and a sauna that is active and accessible year-round.
Identity-building urban development
The choice of materials has been carefully made to create a harmonious and beautiful environment along the walking and cycling paths and towards Lake Mjøsa, with robust materials that resist flooding and the impact of time. The landscape is designed with soft curves to create a natural and wild atmosphere that benefits biodiversity and the city's nature, while the architecture has clear references to Norwegian building traditions.
In 2021, various measures were taken to invite the public to use the area at Indre Havn and thereby increase interest in Mjøsfronten. Opening up for citizen engagement has proven to be an effective method for creating identity for the city and the area.
Gallery