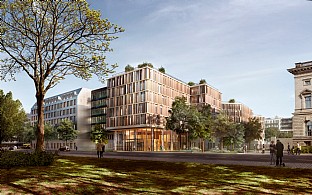 German Ministry for the Environment - BMUV
The German Ministry for the Environment, Nature Conservation and Nuclear Safety, BMU, is a sustainable timber-hybrid building with integrated solar panels and a strong focus on daylight and shared green spaces.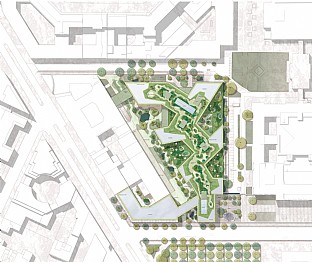 Facts
Client
Bundesanstalt für Immobilienaufgaben (BImA) represented by: Bundesamt für Bauwesen und Raumordnung (BBR)
Architect
C.F. Møller Architects
Landscape
C.F. Møller Architects
Collaborators, other
SINAI Gesellschaft von Landschaftsarchitekten mbH BAL (budget calculations, detail design, tender, site surveillance)
Awards
1st prize in architectural competition. 2019
Located in a historic site in central Berlin, the idea has been to create a green and permeable composition of building volumes to lend the site a new quality, and at the same time serve very high demands for sustainability, security and integration of historic monuments and outdoor facilities.
One part of the complex creates a completion and reinterpretation of an existing urban block containing BMU facilities, as an elegant addition clad in natural stone and photovoltaic panels integrated in the façade.
Alongside the existing block, a new and dynamic building form is created. The starting point is the classical and functional office layout which has been optimised in terms of daylight, natural ventilation and building geometry to create excellent daylight conditions and views for the office spaces. The building is opened towards the surrounding city and integrates green courtyards via a branch-like structure at the outer perimeter, to let fresh air in and access the green spaces.
The building is constructed with sustainable timber load-bearing structures, which greatly reduce the building's embodied carbon content and environmental impact.
Green and sustainable
The courtyards act as nodes inside the building via four glazed atria with open staircases connecting the ground floor with the upper office levels and a roof garden. At each floor, a lounge area creates meeting points for breaks and exchange of knowledge and ideas in each office section. This, together with a conference centre and library on the ground floor designed to double as an alternative workspace for New Ways of Working, provides great flexibility in accordance to different users over time.
The facade of the building is inspired by the varied density of tree crowns as a part of a multi-pronged low-tech sustainability strategy, reducing the CO₂ footprint and enhancing the comfort for the users. By integrating photovoltaic panels in the façade of one of the building parts, the roof of the other is kept free for a generous green rooftop garden which together with the green courtyards underlines the environmental ambitions of the ministry and the positive contribution to the cityscape.
Gallery