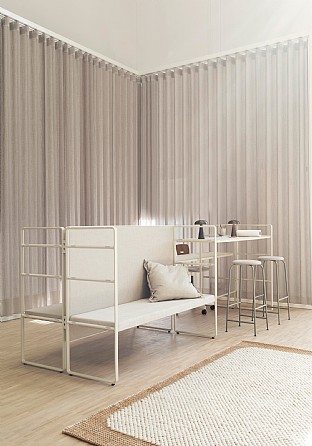 Central Station
It is a series of breakout and separating furniture designed to help link office work zones to social zones, so as to create coherence and give employees their own smaller spaces in a large room.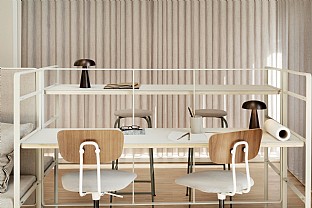 In both the commercial and public sectors, the modern office workplace creates a framework for a diverse lifestyle and a host of different activities and tasks. The workplace is therefore reminiscent of life at a railway station. This is where people work, phone, hold meetings, socialise, wait, chat, have breaks, drink coffee etc. The series is marketed under the name Central Station, because the same group of furniture embraces everything: creating frameworks for work, informal meetings, social community and relaxation.
Embracing the needs of modern business
The series was designed and developed by C.F. Møller's design team in collaboration with Holmris. It caters for the call for a new type of furniture to accommodate businesses' need for agile adaptation, whilst at the same time supporting an office layout tendency towards classical work zones merging with social zones and new ways of working.
Endless possibilities
Central Station's basic concept comprises a cast aluminium gable – sheets of 'x' veneer with a linoleum surface and a bench. Various types of accessories are also available. There are an infinite number of ways arrangements can be changed and expanded, and together they form a spatial interior landscape with both functional and sculptural qualities. Without using any tools, the various elements of the series can be moved around and combined as needed for storage, standing areas, meeting tables, upholstered seating, touchdown workspaces, hotspots, counters, coffee bars, seating etc.
Offices are the knowledge society's workshops, and the need for practicality in workshops has been passed on in the design and expression of the furniture series, which is both raw and refined.
Gallery