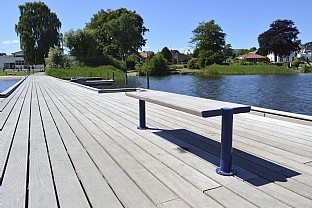 NORD - outdoor furniture
NORD is a new line of outdoor furniture with a bench, plinth, table and chair in a minimalist design that reflects in both construction, design and price.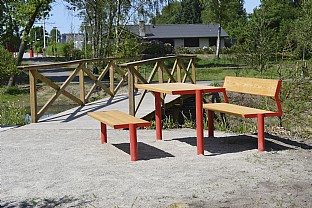 The design appears simple with beautiful and clean lines focusing on quality, detailing and seating comfort. The different products of the line are all closely related, and together they constitute a harmonious whole. The new outdoor line can be used everywhere people meet and walk such as parks, schools, kindergartens and hospitals.
Characteristic of the series is the fine detailing and the refined combination of steel and wood. The planks are invisibly fastened to the steel frame, which simultaneously protects the ends of the boards. The entire line of outdoor furniture can be mounted either freestanding on a foundation plate or embedded in the ground. The side elements are available with or without armrests. Multiple benches or plinths can be assembled in continuation of each other in a straight or staggered arrangement. In regards to such an arrangement, the backrests of the benches can be turned either in the same or opposite direction.
The robust solutions of the line, the good materials, and surface treatment are all chosen for the purpose of long durability. The steel parts are carried out in both lively and mellow colours.
Material specifications can be found at the manufacturer, Veksø A/S - https://bit.ly/2H3RQ8h.
Gallery