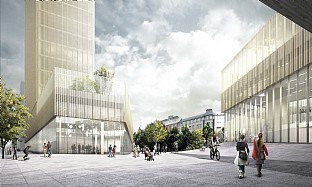 Örebro Resecentrum
The Swedish town of Örebro, which lies between Stockholm and Gothenburg, is a regional and commercial traffic nerve centre.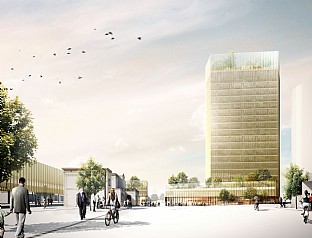 Fakta
Auftraggeber
Örebro Kommun, Stadsbyggnad
Architekt
C.F. Møller Architects
Preise
2. Preis im Wettbewerb. 2014
The town has excellent motorway and rail connections to both major cities and the rest of the country. However, the town centre suffers from a lack of infrastructural clarity. It has a tangle of roads and rail tracks causing noise pollution and splitting the city in two. C.F. Møller's proposals will simplify the traffic net and eliminate the split, creating a new main street to unite the two districts. The new main street will stretch from Örebro Resecentrum, which will become a new traffic centre.
To create safe conditions for pedestrians and cyclists, the new main street will be a green urban thoroughfare. Apartment buildings, offices and public buildings will be built along the main street to create a vibrant and dynamic town centre. Örebro Resecentrum's old station building will be transformed into a café and restaurant to create an important meeting place. One road leading to the station will be converted into a plaza, which will extend in a gentle curve down under the rail tracks and over to the other side, where there will be paths and cycle tracks. To the north, it will be possible to build a high-rise building, e.g. with office space as well as hotel and conference facilities.
Gallery