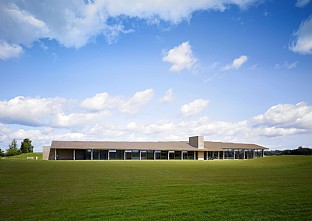 Brogården, Guesthouse
Brogården is a former folk high school which has now been taken over by the Pindstrup Centre – an organisation for families with children with disabilities and special needs. In order to use the facilities as the organisation's course centre, it was desired to create facilities that could accommodate families with disabled children.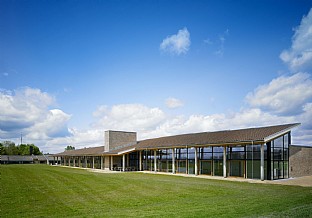 Facts
Address
Middelfart, Denmark
Client consultant
Kim Christiansen
Architect
C.F. Møller Architects
Awards
Middelfart Municipality Architecture Award. 2012
The ambition of the project has been that the experiences of guests and users with special needs should not be adversely affected by an institution-like setting, but should instead take place in up-to-date, fully integrated and authentic surroundings.
The new building can house 14 families in two-bedroom apartments, in which one of the bedrooms has a fully-equipped ensuite handicap bathroom, while the other bedroom is slightly smaller and has just a shower. To ensure maximum flexibility, the rooms can also be divided into 28 ordinary course rooms.
All of the rooms are oriented towards the common room, which is centred on a large chimney with three open fireplaces. Large glass windows afford clear views of the Little Belt and the Little Belt Bridge. To create a warm and welcoming atmosphere, natural materials have been chosen, such as stone floors, wooden slat ceilings, polished masonry, etc. The entire building is naturally one hundred percent disabled-accessible.
Gallery