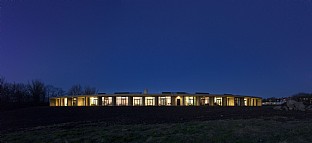 Hospice Djursland
In hospice design, the architect's finest task is to create surroundings which will provide the best possible conditions to promote quality of life, respect and a dignified death.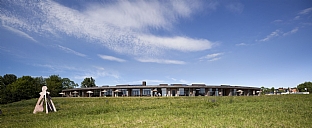 Facts
Client
Den Selvejende Institution Ejendommen Hospice Djursland
Size
1,900 m² and an 90 m² extension (orangery and garage) - 15 beds
Competition
1st prize in competition. 2006
Construction
CC Contractor
Architect
C.F. Møller Architects
Landscape
C.F. Møller Architects
Awards
AADAIH-IFHE award for Architectural Quality in Healthcare buildings (new work under 5,000 m²) - 1st place. 2014
Civic Trust Award. 2012
1st prize in competition. 2006
Hospice Djursland is first and foremost a building within a landscape. No matter where you go in the building - the reception area, the garden of the senses, the orangery, the atriums, the staff room, the lounge, the reflection room or the patient rooms - the beautiful landscape is always present.
We have aimed to create a very humane building; by which we mean a building which is not an institution, but rather a home which provides adequate physical and mental space for those who will live there in their final time, as well as for their relatives and the staff.
The common materials used are copper, oak and glass, which interact beautifully and naturally with the landscape and provide a sense of warmth in the rooms.
Gallery