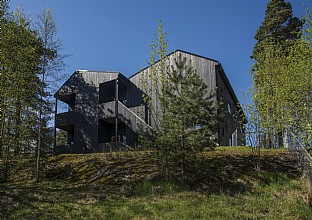 Radarveien
At Lambertseter in Oslo, C.F. Møller Architects has designed four care homes for children and young people with disabilities. The ambition of the project is to create good architecture and inspiring housing on a tight budget.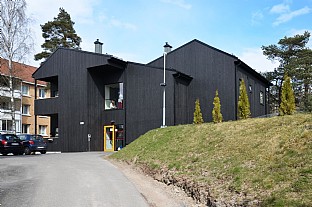 Facts
Client
Oslo kommune Boligbygg
Architect
C.F. Møller Architects
Collaborators, other
Haandverkerne, NCC og Moelven
The care homes contain four personal apartments, all-day staff rooms and common areas.
Dignity is a central theme to the project. The architecture is designed to allow the residents to personalise the apartments and create their own homes. All apartments allow plenty of daylight in and good views, and each has a terrace where the residents can be themselves. The design and sensory qualities of the homes are intended to motivate and strengthen the residents' self-esteem in difficult life situations.
With simple means, that which is most necessary is built in the best possible way. The architectural ambition is to achieve a clear character and good living conditions, despite a strict budget and standard construction methods. The apartments have the best possible spatial qualities within the given framework and consist of a bedroom, bathroom, open kitchen and living room. The four apartments are organised as courtyards, embraced by the remaining rooms of the building, located on a hill amidst trees and boulders. The apartments are linked with all-day staff rooms and common areas in one building body beneath two saddle roofs.
The project is built using prefabricated room modules of 25m2 (net) and clad on site with vertical impregnated 'Royal' wood panels. Windows and fittings are in aluminium and zinc. Both internal and external materials have a long life and are virtually maintenance-free. This task - to build good module apartments - is both the simplest yet the most complicated one can imagine in the construction industry.
Gallery