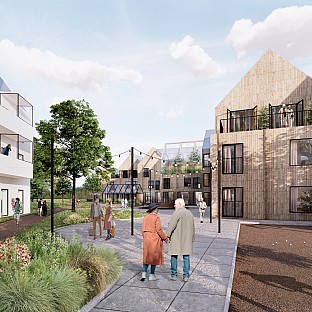 Strandparken
New high-quality accommodation for the elderly next to the harbour in central Simrishamn, with a focus on sustainability and good architecture. The site includes housing for the elderly with approximately 80 apartments, as well as a care home with 60 apartments.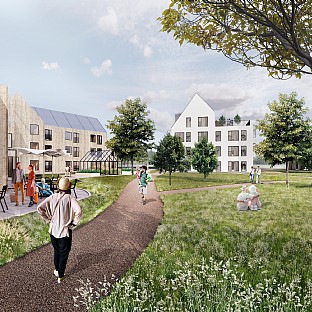 Facts
Address
Simrishamn, Sweden
Architect
C.F. Møller Architects
Based on a vision of high-quality housing for the elderly in an attractive environment, a concept for tomorrow's housing for the elderly is being developed. In this, all activity is characterised by safety, well-being, service and comfort. The proposal includes Plus Energy buildings containing elderly housing and care homes in central Simrishamn. With a focus on sustainability and good architecture, the homes interact with the proximity to the sea and the harbour, as well as with the cityscape. To develop central Simrishamn and strengthen existing neighbourhoods, the design is responding to the typical existing architecture in the city. The homes have a varied and adapted architectural expression, where one building has cedar facades to create the ecological feeling for which the area strives, and the other is clad in plaster as a response to properties in central Simrishamn that were built in the 19th century. The roofs are clad with solar panels which reinforce the building's green footprint on the site. The living rooms have generous windows and light from several directions, the senior building is located closest to the sea where all apartments have sea views. A carefully designed residential amenity area promotes outdoor activities for movement, recreation, and community. Directly adjacent to the new development, a public bathing facility and green areas with tennis and boules courts are being developed. The plot's seaside character means that two separate viewpoints are created for the residents and the public.
Focus on the neighbourhood
The existing housing in Simrishamn will now be accompanied with lifestyle and care housing for the elderly, so that residents are able to remain in their neighbourhood, regardless of their changing needs. Simrishamn's urban development potential is utilised, while sought-after housing for the elderly is created in the inner city. The new development creates new points of interest that benefit the entire central Simrishamn area, and are in harmony with the city's structure. The development will be a welcome addition to housing for the elderly in Simrishamn. Here, senior citizens can get a chance to live in one of Sweden's most beautiful locations, with good access to service and public transport.
Gallery