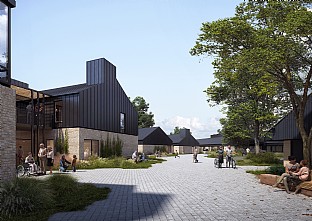 Sjælsø Care Center
Modernisation and expansion secure life quality and comfort for residents, and good working conditions for staff.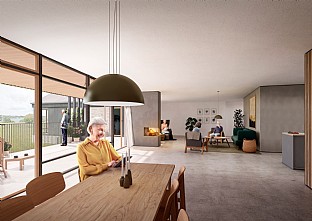 Facts
Client
Rudersdal Minicipality
Competition
1st prize in competition. 2023
Client consultant
GPP Arkitekter A/S
Construction
Adserballe & Knudsen A/S
Engineering
ABC Rådgivende Ingeniører
Architect
C.F. Møller Architects & skala architecture
Landscape
C.F. Møller Architects & skala architecture
Awards
1st prize in competition. 2023
The original Sjælsø Care Centre was built in 1974 and will be outdated in 2023. The project consists of modernisation and partial demolition of the existing building. Existing nursing homes are removed and the remaining part of the building is adapted to include service functions such as administration, production kitchen, communal laundry, therapy rooms and a day care centre – forming a kind of town centre with new homes scattered in a circle, which together create the experience of a small town.
In total, 140 new homes will be built in slender longitudinal buildings, grouped two by two around a common area. In the space between the care centre and the new houses, streets, alleys and squares, that are safe and exciting for residents to walk through, have been created. This also signals a modern housing development rather than an institution. There are both single and two-storey units. The houses have private entrances.
Light, space and landscape
The fan-shaped layout creates space and views between the buildings. To the North, where the terrain slopes down towards lake Sjælsø, the buildings are on one level with the gable facing the surroundings. In this way, they adapt to the landscape and the existing buildings while strengthening the connection to the beautiful landscape.
The staggered buildings ensure that all dwellings have a view and that none is perpendicular to the neighbour`s dwelling to enhance the perception of privacy.. The homes have private terraces and French balconies as well as communal terraces adjacent to the communal living areas, creating a good connection between inside and outside. The basic idea of the project is to break with an originally centralistic way of thinking. All the houses therefore have their own entrances and are grouped as several small houses at a scale adapted to the users and the landscape, appearing inviting to the local community.
Gallery