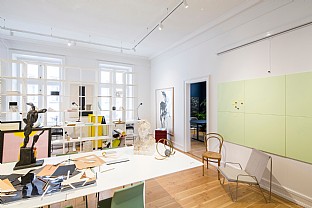 Montana - Showroom
For the project, a complete storytelling narrative was developed, and products from Montana's product range were curated to support this narrative. This made it possible to create a showroom that not only aimed to function as an exhibition, but also to tell a clear story and inspire customers and visitors of the showroom through specific scenarios showing the products in use.
Facts
Client
Montana Furniture A/S
Address
Copenhagen, Denmark
Architect
Architect & Workplace Design: C.F. Møller Architects
Workplace Design
Clarification and definition of goals, wishes, and needs for the new showroom, in collaboration with project manager Helle Scharling and CEO and designer Joakim Lassen.
Development of a concept based on storytelling, which met the desire to create and show a diverse working environment that invites clear diversity, with a focus on collaboration opportunities and a visible work process.
The design of an office area that, based on a story about a fictional creative company, focussed on inspiration, functionality, and atmosphere rather than individual products. A workspace that also offered its employees a varied and lively environment.
Realisation of sketch proposals for the interior design of a kitchen that would serve as a meeting place for guests, with space for functional use, such as cooking and holding wine tastings and more.
Focus on versatile use of space, including a copy room that would also serve as a workshop, as well as the choice of furniture that allowed for combined storage and display of products. Development of smaller units of specialised furniture to make use of window niches.
Proposals for interior design and choice of furnishings, as well as suggestions for surfaces, colours, wall colours and use of plants.
Gallery