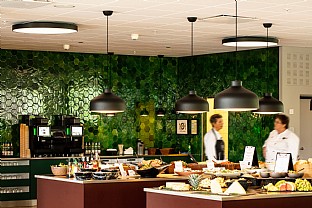 VELUX - Canteen
The VELUX canteen at the head office in Hørsholm has gone from being a canteen that employees would rather not be in, to a place they actively choose to go to, also outside their lunch break. With a focus on acoustics and an interior design that forms small nooks and corners, a space has been created that, in addition to its dining function, has become an extension of the office's working environment.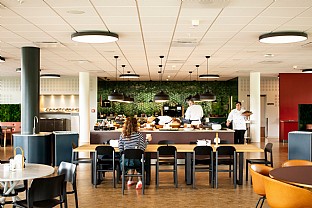 Facts
Architect
Architect & Workplace Design: C.F. Møller Architects
The canteen is designed with variation in furniture, materials, surfaces, and textures, which makes the canteen welcoming, useful and at the same time easy to maintain.
Workplace Design
Development of a design guide for the canteen to reflect VELUX values and culture. The design guide should also be able to be further developed to apply to VELUX offices in general.
Preparation of usage scenarios for the layout of the canteen and three interior design scenarios, based on the premise that the space should function as a canteen, a meeting place, and a space for larger events. Assessment of the canteen's flow, with a view to optimising and placing service, drink stations, bread, and coffee stations.
Preparation of visualisations showing the different set-ups with different furnishings and surfaces as a basis for decision-making.
Development of a furniture and lighting concept, as well as an overall budget as a basis for a prioritisation process.
Identification and determination of the types of furniture that would be needed in the new canteen in the future, as well as proposals for requirement specifications for new furniture, including requirements for surfaces, sizes, flexibility, and number. Preparation of an inventory of fixtures for obtaining tenders, with a final proposal for colour and material selection based on the selected types of fixtures and the colour concept in the design guide.
Assistance in connection with the installation of furniture, including quality assurance and defect review.
Process Consultancy & User Involvement
Facilitation of the process regarding the remodelling of the canteen, including proposals and choice of layout and future use of the canteen. Preparation of budget and timetable for the remodelling project.
Analysis of input from the involvement of employees and managers through ambassador workshops and kick-offs, to prepare a guide for design language, character of furniture, colours, and materiality.
Gallery