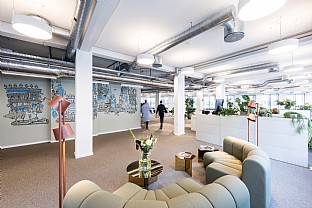 Valcon - workplace design
The project created visual coherence and transparency in a significant building form, characterised by an 8-shaped infinite flow. The building's particularities were highlighted for maximum impact by colouring the core areas and surrounding support functions with the historic building's original wall colours. This clear and comprehensive approach created a connection between disparate functions, and it was in this encounter that the detailing emerged.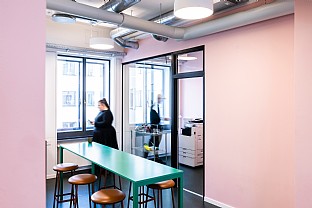 Facts
Address
Copenhagen, Denmark
Architect
Workplace Design: C.F. Møller Architects
Collaborators, other
Lightscapes
Workplace Design
Development and implementation of a concept for a new work environment, arrival area and canteen.
Preparation of a design guide based on input from the user group and the building's materials, surfaces, and colours. Development of a design concept for the overall interior design and the specific types of furniture as part of the design guide. The purpose of the design guide was to ensure that the choice of furnishing types, materials and colours reflected Valcon's identity and at the same time supported the building's special characteristics and distinctive features.
Preparation of an overall plan for the placement of departments and organisation with a focus on creating differentiated work areas that could support different working methods and moods.
Detailed design of the arrival area, canteen, work environments as well as support and common areas, based on different design scenarios that met Valcon's needs and wishes from the user involvement.
Preparation of an inventory project including requirement specifications for new inventory, concept for the use of existing inventory, which was based on an inventory budget that was prepared based on the desired interior design scenarios.
Process Consultancy & User Involvement
Ongoing meetings with the steering group and project group.
Establishment of user groups to strengthen involvement and ownership in the process. Organisation of workshops focusing on identity as part of the subsequent preparation of a design guide and focusing on functionality in relation to the future disposition of the lease.
Planning of reference visits to relevant places that could provide inspiration and form a common starting point in the discussion of the future working environment.
Facilitation of an interdisciplinary ambassador group focusing on future working methods and tasks.
Gallery