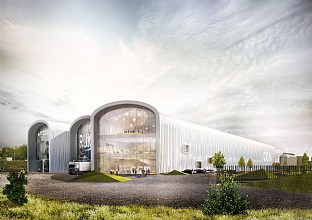 Collection Center of the Netherlands
Collection Center of the Netherlands is a new museum archive in Amersfoort that is to handle repository functions for four different museums, with related facilities for administration, conservation and research. Among the four museums is the Rijksmuseum.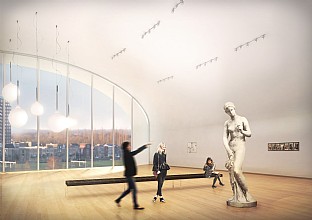 Fakta
Adresse
Amersfoort, Netherlands
Architekt
C.F. Møller Architects in collaboration with Barcode Architects
Preise
2. Preis im Internationalen Architekturwettbewerb. 2016
The building's structure takes its inspiration from the area's gabled buildings. The gable motif has been extruded, thereby forming the three bands of the building. The three bands are combined to create a compact building that allows for a single circular route through the building. The building's gables are used for projections that create an inviting arrival area, giving the building a clear profile.
The project has had special focus on the safety aspects concerning the logistical handling of the museum artefacts. The gables are therefore designed to ensure easy and secure lorry access. The windows are raised 1.3 metres above the floor, as a safeguard from ram-raiding theft. The supply routes are located along a loop that not only gives an effective work process, but also protects the repository rooms from fire, as they do not have electrical and other installations.
In the centre of the building is a covered terrace that gives the staff access to daylight and fresh air. The terrace also allows for exhibitions in the centre of the building, without compromising safety.
The façade is cast in white polymer, which gives associations to wrapping paper. The façade's structure creates attractive shadow effects and reflections, which change with the season and the time of day.
The building is designed for easy expansion, while retaining its special character.
Gallery