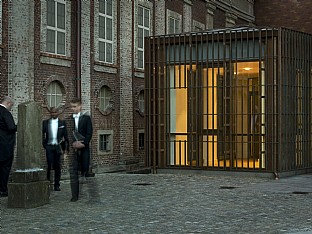 Holmen's Church annex
Holmen's Church was built in 1600 by the Danish King Christian IV. Over the years it has survived the big fires in Copenhagen and is today the oldest example of Renaissance architecture in the Danish capital. The church is much used much by the royal family - e.g. Queen Margrethe's wedding was held here.
Fakta
Auftraggeber
Holmens Parish Council
Adresse
København, Danmark
Ingenieur
Eduard Troelsgaard
Architekt
C.F. Møller Architects
Landschaft
C.F. Møller Architects
For a long time, the Church of Holmen (in Danish: Holmens Kirke) has been badly in need of staff facilities, including offices, a parish hall and disabled toilets. It has so far been too inconvenient for disabled to use the church, and church staff over the years has had inadequate facilities to solve their tasks.
The annex is discretely located between the churchyard aisle and the Chapel, in the place of a dilapidated former 1830s extension, the "Small Confessional".
The two-storey extension places the parish hall with a capacity of 85 below ground, and the offices and staff rooms on ground level. The parish hall is provided with overhead lighting via narrow tracks in the ceiling and the walls are timber-lined. The building is the same height as its predecessors, and its façade and roof are finished in copper as a lattice – extending from the internal façade. The modern design has its own identity, with respect for the historic location: The copper takes its inspiration from the copper roof of the Little Confessional, and the openings of the latticework are repeated in the astragal bars on the church's high windows.
Gallery