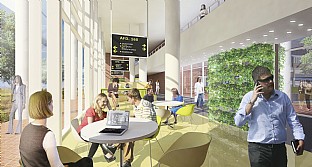 Aarhus University Hospital interior & signage
C.F. Møller is part of the consultant consortium for the largest hospital project in Danish history, the New University Hospital in Aarhus, which commenced in 2007 and will extend over the next 12-14 years.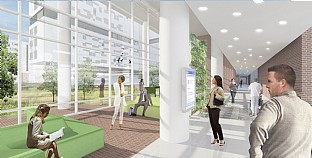 Facts
Size
216,000 m² new building, 159.000 m² rebuilding = 375.000 m²
Client consultant
Rådgivergruppen DNU, NIRAS A/S
Architect
C.F. Møller Architects
DNU will be built onto the existing Aarhus University Hospital, Skejby, to form a combined hospital complex the size of a provincial town. The hospital is designed to function as both a university hospital, regional centre and basic treatment hospital for citizens of the region, while at the same time functioning as a green urban quarter, with a hierarchy of neighbourhoods, streets, plazas and squares.
C.F. Møller Architects is responsible for the implementation of the interior project, which has been undertaken in parallel and in close coordination with the building design. This encompasses furniture and special fixtures, the compilation of an interior manual for the entire complex, a sign manual, and sustainable solutions such as recycling and reuse. Fixtures such as desks, counters, reception areas and a variety of furniture have been designed to secure consistency and recognisability between the various departments and professional communities. In order to help patients to find their way to the right place at the right time, the signage has been designed in accordance with an overall strategy that makes orientation easy, using, for example, internal and external colour schemes.
Gallery