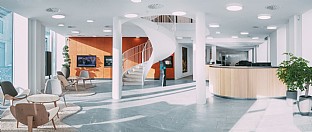 Sydbank, Kgs. Nytorv 30
Sydbank's historic property on Kongens Nytorv in Copenhagen has been restored and upgraded with respect for the building's original grandeur.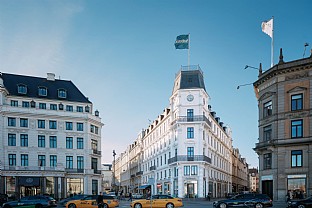 Facts
Address
Copenhagen, Denmark
Construction
LJ Entreprise
Engineering
Oluf Jørgensen Sweco
Architect
C.F. Møller Architects
The restoration of the exterior of the building and the upgrading of its interior recreates the original grandeur of the building and results in an office building suited to today's banking operations. Built in 1875, the building has been restored to its original expression. The façade with all its decoration has been repaired and painted, windows that were previously shuttered have been restored to their full height, the original fillings and details around the windows have been recreated and the building's characteristic balconies with cast iron railings have been restored. The reconstructed balconies facing Kongens Nytorv bring the building back as it was originally intended and gives it a distinctive identity towards the historic square in Copenhagen.
Specially developed colour palette
On the ground floor, the façade appears open, transparent and inviting and is clad with natural stone. Inside, there is a lounge area with a new reception and multifunctional information wall. In the middle of the lounge area, the building opens up to its full height and a spiral staircase connects the ground floor with the upper floors. The floors on the ground level are also made of natural stone, and on the other levels of wide plank flooring in oak. The walls are painted in a colour palette developed especially for the premises. The ceilings are made using acoustic plaster, which, together with the increased inflow of daylight, create a comfortable space for employees and guests.
Gallery