Nørrebro Bryghus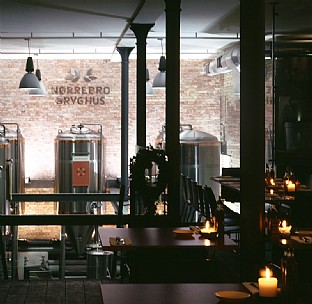 Client
Bryggeriet Cosmo A/S
Address
Copenhagen, Denmark
Size
450 m²
Year
2003
Nørrebro Bryghus (Nørrebro Brewhouse) combines a brewery, a restaurant and a bar with room for 150 dining guests and 100 bar guests, respectively.
The complex has been laid out on three staggered levels in a former metal goods factory, in which the building's original industrial expression has been retained in order to emphasise the atmosphere of a working brewery where good craftsmanship is vital. The brewery's beer vats form the visual linchpin in a decor that balances a rustic workshop style of sand-blasted brickwork and oak plank floors with simple, minimalist furniture and details.
The brewery has received several awards for beautiful and coherent design.
Team
Engineering
Elingeniører JJ BYG
Stig Asger Jensen Rådgivende vvs-ingeniører
Rådgivende konstruktionsingeniører Flemming Rostgaard
Architect
C.F. Møller Architects
Collaborators, other
C.W.Obel A/S
References
2005 Birch & Krogboe Fonden: Pegebog #1, p. 50-51
2005 Copenhagen architecture & design, p. 144-145