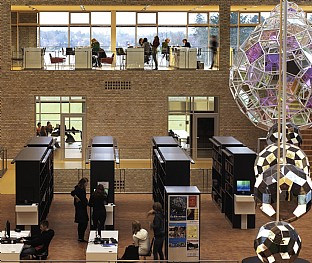 A.P. Møller School - Interior design
The A.P. Møller School is a new Danish co-educational school for the Danish School Association of Southern Schleswig designed by C.F. Møller. The school has room for 650 students. C.F. Møller Design is responsible for the interior design solution.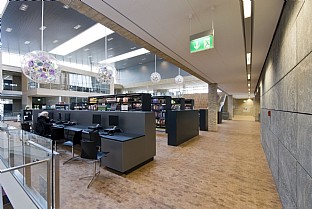 Facts
Client
The A.P. Møller and Chastine Mc-Kinney Møller Foundation
Address
Schleswig, Germany
Client consultant
Maersk Construction (project and construction management)
Architect
C.F. Møller Architects
The focus has been on creating a positive and motivating learning environment that integrates ICT in teaching and in the way the student's gather knowledge. The work has included an interior manual for the furnishing of the study areas and classrooms, open spaces, kitchen, canteen and staff facilities as well as customized furniture to the school library, including reception desk, desks and lounge furniture.
C.F. Møller Architects has also developed a new, continuous ceiling system for the entire school, which unifies light, ventilation and other installations in a single ceiling element that compliments the building's solid and serene expression.
Gallery