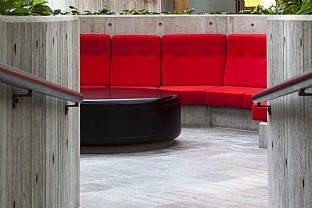 Danmarks Radio, Aarhus - interior design
The DR complex in Aarhus was designed by C.F. Møller and built as a TV and radio broadcasting centre over several periods from the mid-seventies onwards. The building has managed to keep up with the massive technological developments in radio and television production, and C.F. Møller Architects has now updated the decor, so that visitors and staff can continue to experience DR as an open and inquisitive workplace with professional skills and credibility.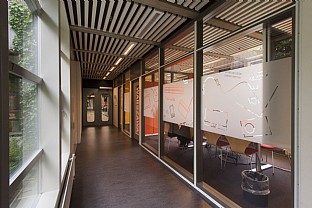 Facts
Architect
C.F. Møller Architects
The new decor primarily encompasses the meeting rooms, newsrooms and audience areas. The floors and loose fixtures have been replaced, and meeting rooms and quiet rooms have been opened up with glass walls to provide light and transparency. A semi-transparent window film with graphic pictograms of TV, computers and smartphones ensures privacy. The meeting rooms have also been equipped with an AV solution that makes it possible to combine TV and smartboard arrangements on a single wall. The solution has been especially designed for DR.
DR has also been given a new colour palette, which can be used with loose fixtures and walls, in addition to the older seventies colour scheme that characterises the fixed building elements in the meeting rooms and newsrooms.
DR's classic red colour has been used in the public areas on selected wall surfaces, and on the upholstery of the building's characteristic sofas.
The building was in use throughout the process, which was therefore carried out in a highly concentrated sequence.
Gallery