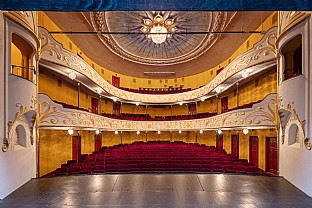 Viborg Theatre - Restoration
Restoration of the listed Viborg Theatre from 1909 brings back the original expression while new interiors and facilities update the theatre to today's expectations of audiences and employees.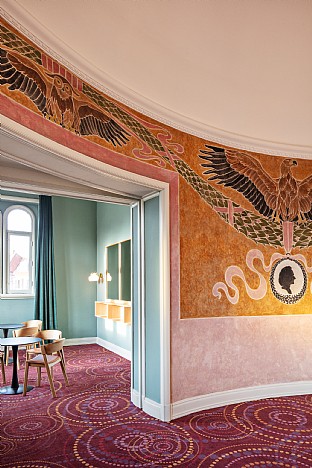 Facts
Client
Den selvejende institution Viborg Teater
Architect
C.F. Møller Architects
Collaborators, other
Bent Jacobsen Farvekonservering
Awards
Nominated for the Renovation Award in the category Institution. 2022
The theatre building was constructed in 1908-1909 and is built and decorated as was typical in the period. It accommodates over 400 spectators spread over the floor and the 1st and 2nd balconies. The overall design strategy has been to bring the theatre back to its original material and colour expression in combination with new and updated interiors. The work includes the renovation of existing parts of the building by, among other things, exposing original details that have been hidden, new interiors, heavy and atmospheric colours where ochre walls, red doors, and blue-green railings create a stunning expression, and lighting that is at once classic and modern.
New furnishings based on history
New furnishings such as carpets, light fittings, furniture, as well as new fixtures such as bars and mirrors, have a contemporary and modern look. The inspiration for the design of fixed furniture is based on the original details and materials. In particular, the original approach to carpentry has been used as an inspirational frame of reference and basis for the design of, for example, a new bar in the arrivals area. The same oak and leather chair is used throughout the building, but in different versions and heights to suit small coloured side tables and wooden tables of normal height. As another modern layer and counterpoint to the theatre's new and beautiful colours and finishes, all lighting in audience areas has been replaced, so everything is new and energy-saving LED.
Gallery